PLAINVIEW, NY (July 27, 2022) — As the historic Western Swing concludes this weekend at Pacific Raceway Justin Ashley will be adding some local flavor to his Phillips Connect Toyota Top Fuel dragster powered by Vita C Energy. Ashton Paving, a Salem, Oregon based company, will ride along at over 330 mph as Ashley looks to close out a three race stretch with a victory. Ashton Paving is a family owner and operated company specializing in residential paving as well as trucking and hauling logistics.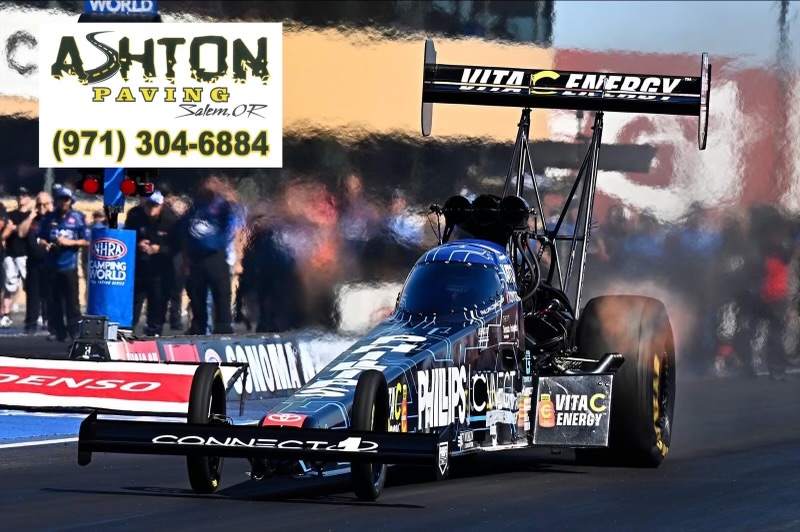 "We are always looking to partner with local companies that have a passion for drag racing," said Ashley, a two-time winner in 2022. "I understand the importance of construction through my experience in real estate and fully appreciate the great job Bobby and Amanda Teeter do for their clients at Ashton Paving. Rich Bailey our marketing representative was kind enough to get everyone connected and I look forward to highlighting them and hosting their guests this weekend in Seattle."
For 17 years Ashton Paving has been offering honest and fair bids with excellent service to all their customers. In addition to residential paving the company has provided their services to several businesses across the northwest including Woodburn Drag Strip.
"We are excited to be joining Justin's team for the Northwest Nationals," said Bobby Teeter. "We are a family-owned business that loves drag racing. We have been following Justin and would love to see him get a win in Seattle. We are looking forward to getting out to the race and talking about our business."
Qualifying for the Northwest Nationals will begin on Friday night with two more sessions scheduled for Saturday. The Phillips Connect Toyota Top Fuel dragster powered by Vita C Energy will be running for one of the top 16 qualifying spots for Sunday's race day eliminations. FOX will broadcast the race from 4 p.m. – 7 p.m. ET on Sunday.