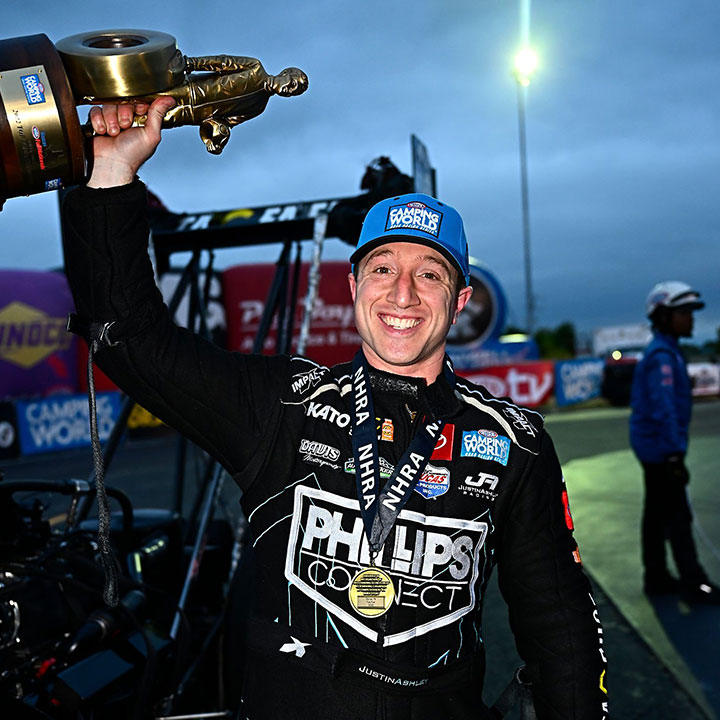 Justin Ashley is a 28-year-old professional racecar driver competing in NHRA's premier Top Fuel Dragster category.
Following the 2020 season, Justin captured the NHRA Rookie of the Year award, recognizing the top professional rookie based on performance on and off the racetrack, participation, and relationships with fans, sponsors, and media. During his rookie season, Ashley led the Top Fuel category in average reaction time and collected his first career Top Fuel win at the NHRA Summernationals in Indianapolis. During the 2021 season, Justin quickly established himself as one of NHRA's premier talents on and off the racetrack, winning the NHRA FallNationals and finishing 4th in the Top Fuel Points Standings. He now holds the Bristol Dragway Top Fuel speed record at over 334MPH.
Justin's father, Mike Ashley – a multi-time NHRA Champion, is the team's Chief Marketing Officer. Mike Ashley heads all media and sponsor relations, bringing big business and marketing experience to the team. Fans can engage with Justin on Facebook, Instagram, and Twitter by following @thejustinashley.
Date of Birth: December 12, 1994
Education: Ithaca College
Favorite Race Track: Gainesville Raceway
First NHRA Win: Gainesville 2017
Most Memorable Moment: Winning the 2022 NHRA Winternationals
First NHRA Car: 2013 M&M Top Dragster
Racing Goals: Win a World Championship
Hobbies: Jet Skiing, Football, Baseball, Basketball
Awards and Achievements
2017 Lucas Oil NHRA Nationals Top Alcohol Dragster Champion
2017 NHRA Gatornationals Top Alcohol Dragster Champion
2018 Lucas Oil East Region VMP Top Alcohol Dragster Winner
2020 NHRA Rookie of the Year
2020 NHRA Summernationals Top Fuel Champion
2021 NHRA FallNationals Champion
2022 NHRA Winternationals Champion
2022 NHRA Thunder Valley Nationals Champion
2022 NHRA FallNationals Champion