PHOENIX, AZ (February 22, 2022) — It has been two years since Top Fuel driver Justin Ashley competed at Wild Horse Pass Motorsports Park outside of Phoenix, Arizona. The third-year pro will roll into the multi-use facility with momentum and the Top Fuel points lead after opening the 2022 NHRA season with a dominating win at the NHRA Lucas Oil Winternationals last Sunday. Ashley's Phillips Connect Toyota Top Fuel dragster powered by Vita C Shot made seven consecutive flawless runs and on race day he outran Jim Maroney, Antron Brown, Steve Torrence and Austin Prock to secure his third career Top Fuel victory.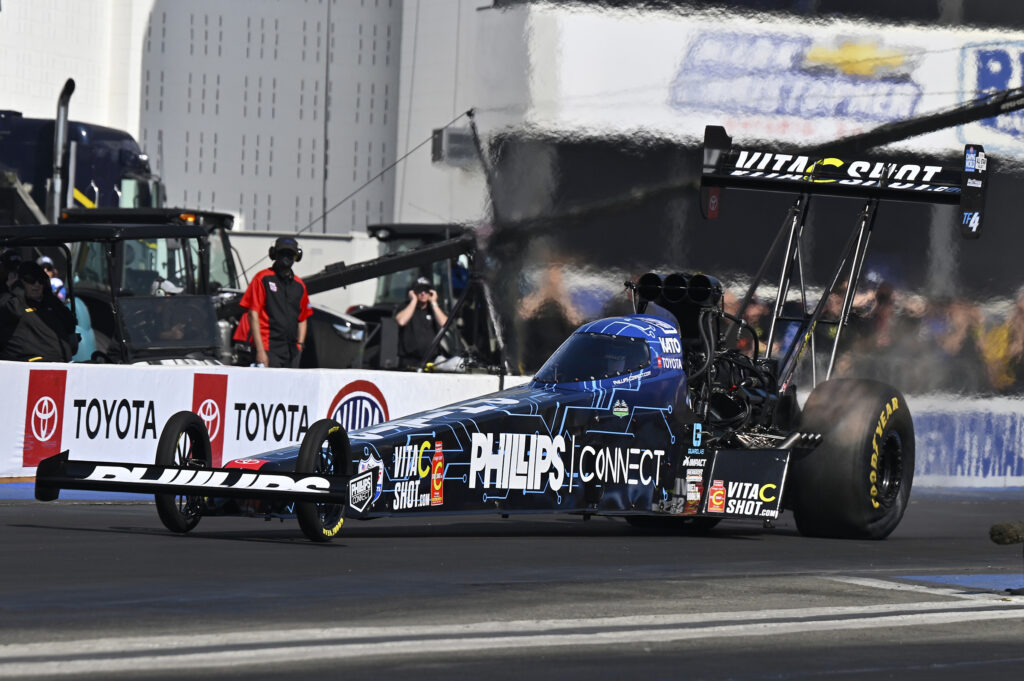 "Winning the Winternationals was a great start to the season for this Davis Motorsports team and our new sponsor Phillips Connect," said Ashley, from the Auto Club Raceway media center. "(Crew chiefs) Mike Green, Tommy DeLago and the whole crew gave me a great race car that went down the track every run all weekend. We tested two weeks ago here at Wild Horse and want to keep that Vita C Shot style energy moving forward."
The Winternationals win came from The No. 2 qualifying position, Ashley's best qualifying effort since his No.2 start at the Texas Motorplex in 2020. Earlier in that same 2020 season Ashley started from the No. 5 qualifying position at the NHRA Arizona Nationals his best career starting position to date, and he raced to a quarterfinal finish that day losing to Brown in the second round.
"We have raced at the Arizona Nationals one time and ran relatively well there," said Ashley, a second generation NHRA competitor. "We made some good runs in testing in which we were primarily focused on our early numbers. That work paid off during the Winternationals when we had good sixty foot and 330 ft. times. This class is so close that you generally have to have a quick car early to give yourselves an opportunity to win races."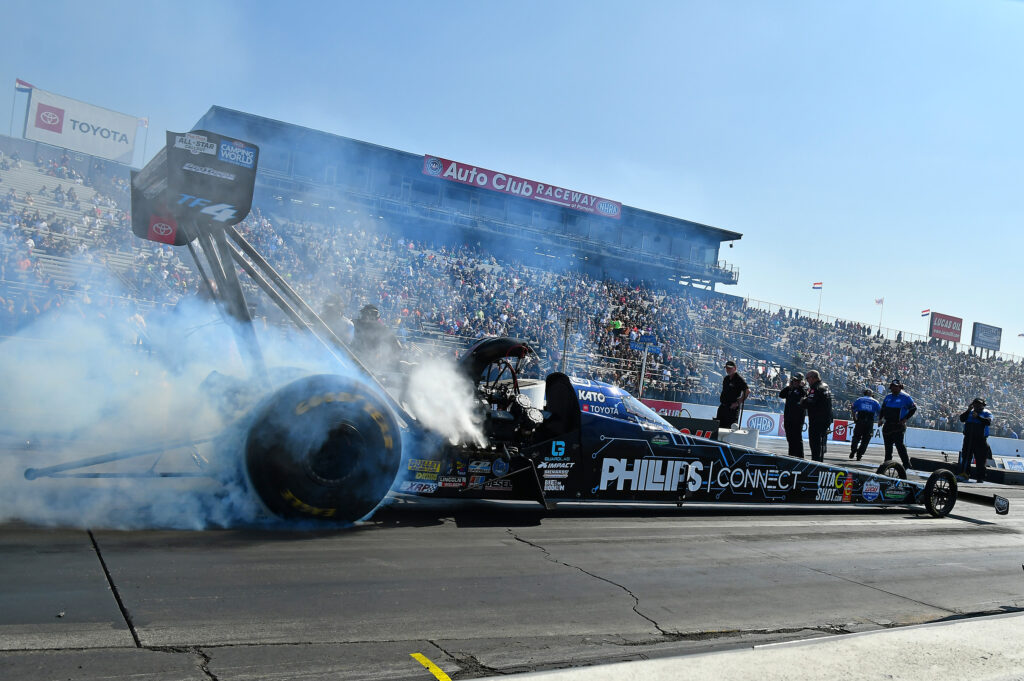 Recognized as one of the best leavers off the starting line Ashley continues to challenge himself to improve. The 2020 NHRA Rookie of the Year is excited by the competition level this season in Top Fuel with the return of 2019 Rookie of the Year Prock, eight-time champion Tony Schumacher and the overall improvement of all the Top Fuel teams. During the Winternationals Ashley refocused on his starting line routine and it paid dividends on race day.
"I have said this before, but this is the toughest field of Top Fuel cars and drivers we have seen in the past decade," said Ashley. "Now more than ever reaction time is critical to the success of the team. I prioritized that importance going into Sunday (in Pomona). I wanted to make sure we gave our team the best opportunity to win. I didn't want to stay still and not make any changes. I made some adjustments, and the results were more indicative of what I expect."
Over the course of Ashley's young career, he has made a name for himself on and off the track building sponsorship relationships that offer a platform for businesses to grow and keep his team competitive. The backing and support from companies like Phillips Connect and Vita C Shot as well as Auto Shocker and KATO Fastening Systems has put Ashley's team and Davis Motorsports in a position to compete at the highest level. Throughout every weekend Ashley is meeting fans and supporters while also balancing his racing duties.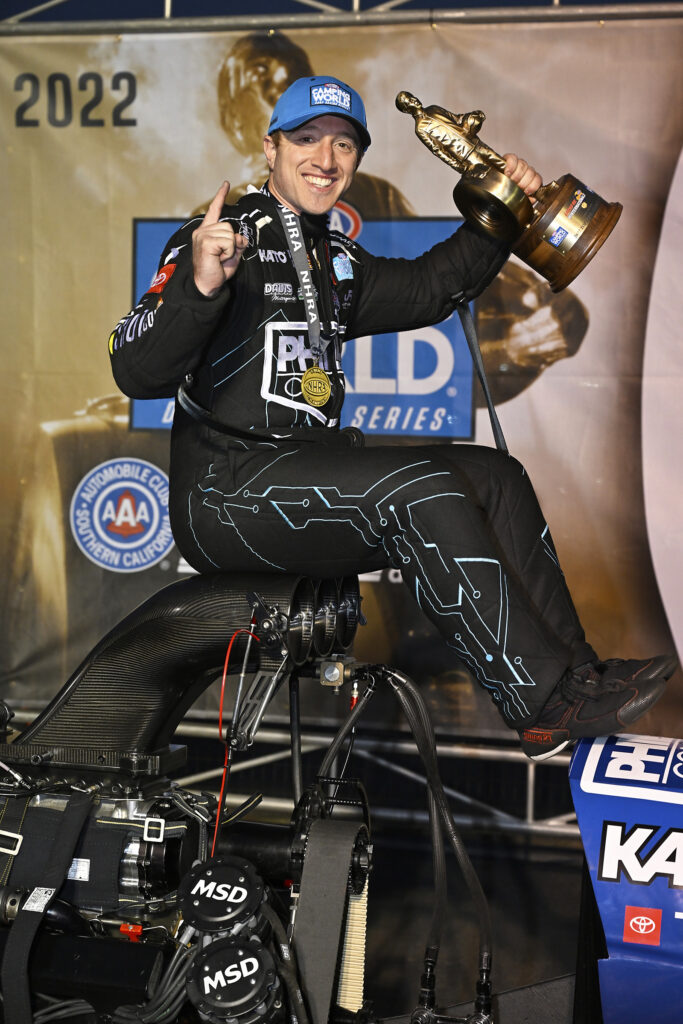 "This business side of racing is unlike any other endeavor," said Ashley. "I grew up watching my father race and build marketing relationships. I learned a lot from those experiences and value the importance helping companies generate a return on investment. No matter what happens on the track, all our partners should be winners when they leave our Lucas Oil hospitality tent for the weekend."
The NHRA Arizona Nationals start Friday February 25 with the first Nitro qualifying session set for 5 p.m. One Saturday Ashley will have two more qualifying runs at 1:30 p.m. and 4:30 p.m. before Sunday final eliminations get underway at 11 a.m. local time. The race will be televised nationally on FS1.