PHOENIX, AZ (February 27, 2022) — After opening the season with a win at the NHRA Winternationals Justin Ashley and his Phillips Connect Toyota Top Fuel dragster powered by Vita C Shot made a strong effort in qualifying at the NHRA Arizona Nationals. Through three rounds on Friday and Saturday Ashley came into race day as the No. 5 qualifier on the strength of his 3.685 second pass in the final session yesterday. In the opening round Ashley drew No. 12 qualifier and eight-time Top Fuel champion Tony Schumacher, who was returning to NHRA action after a several year absence.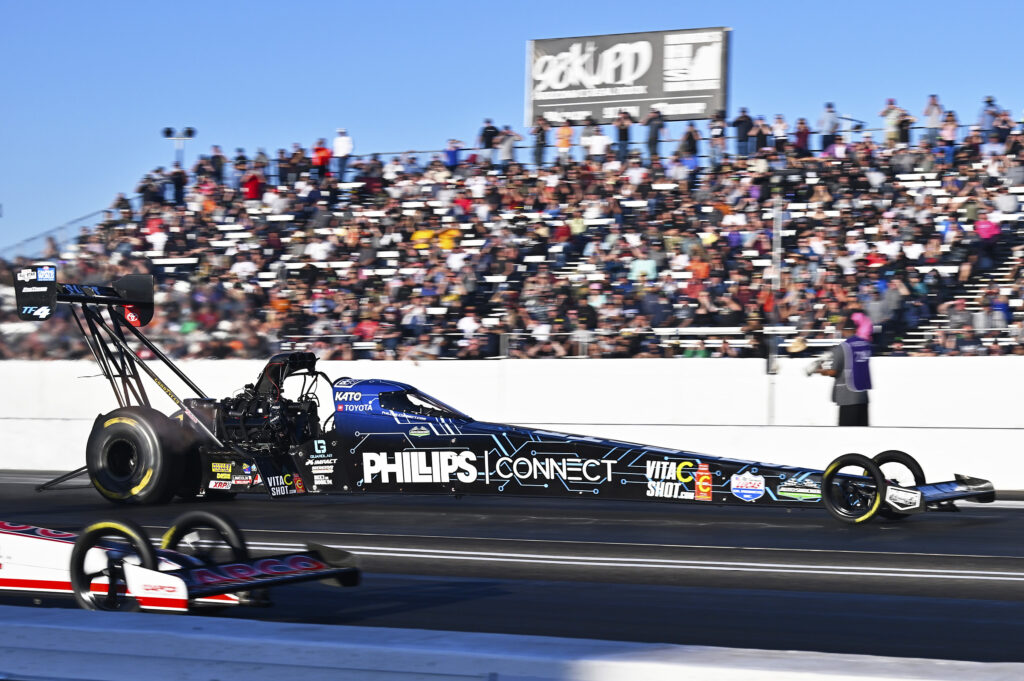 This was Ashley's second appearance at the NHRA Arizona Nationals and second time qualifying No. 5. In 2020 he won his first round and lost in quarterfinals. For the first time Ashley was squaring off against Schumacher, the winningest Top Fuel driver in history. The third-year pro was not intimidated and had confidence in his Phillips Connect Top Fuel dragster team.
The Phillips Connect Toyota Top Fuel dragster powered by Vita C Shot was strong off the starting line, but it was a little aggressive as it moved down the track. It overpowered Ashley's Goodyear slicks and like a veteran Ashley gave his 11,000-horsepower land rocket a quick pedal, lifting off the throttle and getting back on it. He was able to keep accelerating but Schumacher was able to get some distance on the 2020 NHRA Rookie of the Year. Ashley was not giving up and just came up short of advancing to the quarterfinals.
"The car just went out there and shook the tires," explained Ashley from his pit area. "It is just one of those deals where we knew we needed to go out there and race hard. We knew Tony was going to bring his A Game. We had to lay it all out on the line. Unfortunately, it just wasn't enough today. That was just racing. You shake it off and put it behind you."
"Each time I get in this Phillips Connect Vita C Shot Toyota dragster I tend to experience something new," said Ashley. "That pedal job was a great learning experience for me. I felt it shake the tires and I was able to get back on it. I looked over to the lefthand lane and saw Tony out in front of me and I was just about to lift. I noticed he started mixing up cylinders and I said to myself 'let's just stay on it and see if we can catch him.' We just ran out of real estate. Every experience is valuable and that was one of them."
With the backing of new primary sponsor Phillips Connect and Vita C Shot along with returning sponsors Auto Shocker, KATO Fastening Systems and GuardLab Ashley will head to Gainesville and the NHRA Gatornationals looking to pick up two wins. With his Top Ten finish from 2021 and strong qualifying efforts in the first two races Ashley and seven Top Fuel competitors will be racing for $130,000 purse in the Pep Boys Allstar Callout specialty race.
"The most important thing from each event is to learn from it. We are going to do just that and move on to the next race. I am so proud of our Phillips Connect Vita C Shot Toyota team. Despite the end result, they did a great job all weekend. Gainesville will be a big race for us on and off the track and we can't wait to put our best foot forward there," added Ashley.
Qualifying Results
Q1: 8.468 sec, 74.86 mph; Qual. 12
Q2: 3.713 sec, 329.58 mph; Qual. 5
Q3: 3.685 sec, 327.35 mph; Qual. 5
Bonus Points: +1 (3rd quickest in Q3)
Race Results
E1: Tony Schumacher, Lakeway, Texas, SCAG/Maynard Family dragster, 3.892, 263.41 mph def. Justin Ashley, Plainview, NY, Phillips Connect Vita C Shot dragster, 4.026, 303.57 mph
Camping World Drag Racing Series Top Ten – Top Fuel
1. Mike Salinas 181
2. Justin Ashley 159
3. Steve Torrence 152
4. Brittany Force 139
5. Josh Hart 125
6. Austin Prock 123
7. Clay Millican 122
8. Tony Schumacher 104
9. Shawn Langdon 86
10. Antron Brown 80