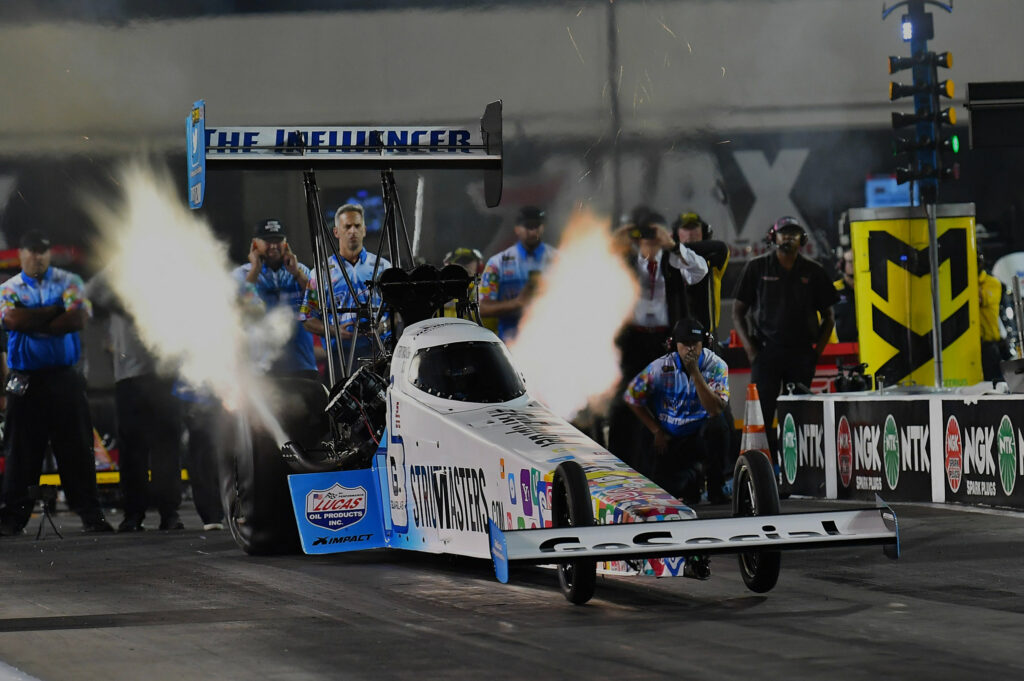 For Immediate Release
JUSTIN ASHLEY KEEPS FIRST-RACE EXPERIENCE IN PERSPECTIVE FOR VEGAS
LAS VEGAS – Justin Ashley understands his debut was the exception to the rule.
First-time Top Fuel drivers aren't supposed to perform to the point; they are one round away from a final round.
For the 24-year old driver of Dustin Davis' Top Fuel dragster sponsored by Strutmasters.com, keeping the experience in perspective was not a difficult task.
"I think after Charlotte, I took a few days to sit back and think about the event and realize how appreciative I was for how everything went and how thankful I am that we had some success and that I have the team that I have," Ashley explained. "Then after that, I immediately shifted my focus right to Las Vegas and the next national event, because I know that I can continue to improve as a driver, and we can continue to get better as a team."
Ashley drove his way to the semi-finals of the NHRA Carolina Nationals in his Top Fuel debut, the first of three races he plans to run in 2019, effectively preserving his Rookie of the Year status for 2020.
This weekend's NHRA Las Vegas Nationals presents an overwhelming challenge in that he's raised the bar so high, Ashley will need to run just as good if not better.
"I have a lot of confidence in my team, and I have a lot of confidence in Dustin Davis, Aaron Brooks and Jason Bunker, but I'm also realistic," Ashley admitted. "I know that, especially in the Top Fuel category, these are the best drivers. These are the best teams in the world, and on any given race day, any team can win. I knew that the competition was going to be tough, so to be able to go out in Charlotte and find success and go a few rounds in your national event debut, I know that that's rare. But at the same time, I do expect to be successful, and I know my team does as well."
Ashley understands flying under the radar is no longer an option.
"They should be gunning for the top guys," Ashley said. "They should be gunning for the Torrences and the Kalittas and the Antron Brown. I don't know about me. I just had one relatively successful national event. But if I did fly under the radar before, then I suppose the cat's out of the bag now."
Ashley will be accompanied by veteran videographer Corey Michalek this weekend, chronicling the outing for a future episode of the new reality/documentary surrounding the successful real estate developer's life both on and off the track.
"The Fix, Flip, Fuel series is an exciting… It's exciting, I think, for me, but more importantly, it's exciting for the fans," Ashley explained. "It's something that's totally different. I never did anything like that before. So to have someone around you and around your personal life and your professional life and then your racing life is a totally new experience, and it definitely took some adjusting to. But then, once you get used to it and you know the real purpose of it, which is to help the fans really get an in-depth, behind-the-scenes, all-access look at my life.
"I realize why I'm doing it, and I know that it's different, and it's something that most people haven't done before. But I think it's exciting, and it's a new avenue, and it's worth every minute of it."