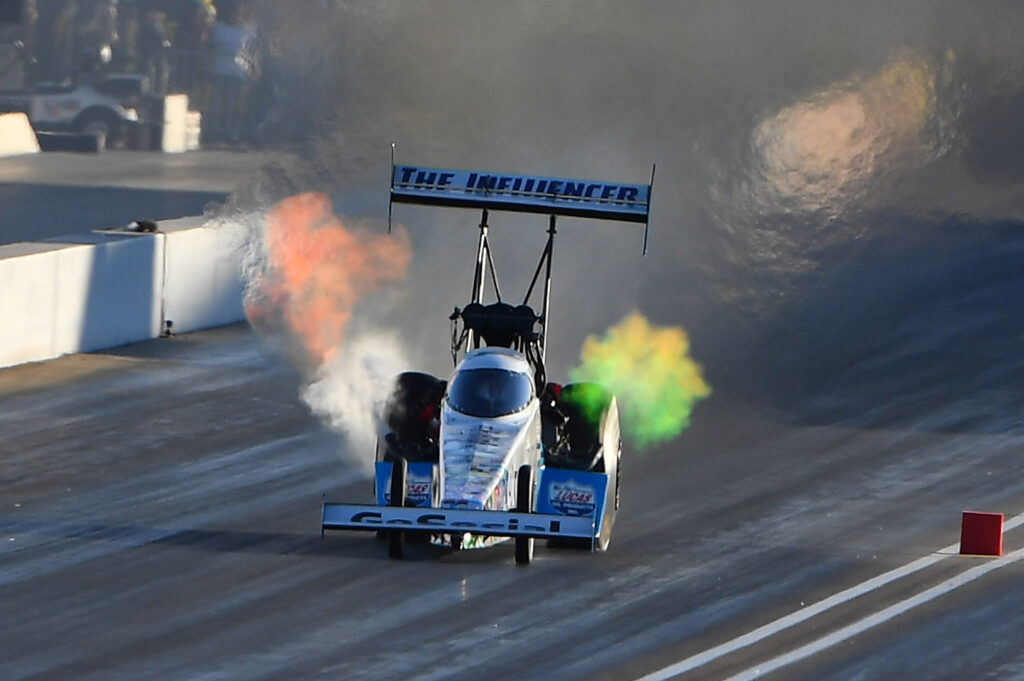 For Immediate Release
SECOND-GEN ASHLEY DELIVERS ANOTHER MEMORABLE PERFORMANCE
LAS VEGAS – One of the first lessons Justin Ashley learned before he fired the car for his first run in a Top Fuel dragster was to leave the emotions out of the cockpit. The 24-year old successful real estate developer, who drives the Strutmasters.com Influencer dragster for Davis Motorsports, sat emotionless as his crew fired the engine for his fourth and final qualifying session at the Dodge NHRA Nationals presented by Pennzoil in Las Vegas, Nev.
Ashley was unqualified with one last opportunity to continue the run of improbable fortunes, which started two weeks ago at zMax Dragway with a semi-final finish in his driving debut. The first time out, the second-generation driver made his best pass out of the trailer and held on for a berth in the field.
This time, run after run, was terminated by a gremlin plaguing the supercharger belt, which kept throwing it from the engine. It was the same issue which ended his race day against Steve Torrence in Charlotte.
The fourth time was the charm for the Aaron Brooks-tuned dragster as Ashley thundered to a 3.786 second, 322.19 mile per hour pass, good enough for #14 in the field.
"That's why they give us four runs," an elated Ashley said as he exited the canopied dragster built by Don Schumacher Racing.
"How's that for a flair for the dramatic? I do my very best to try and keep the emotions out of it, and try to treat it like a test run or just another pass. But human nature in a situation always puts everything in perspective. I had a pretty bad stomach ache."
Three times before Ashley believed he was on "the pass," only to have the rug pulled out from underneath him. And it was no walk in the park for decorated tuner Brooks either who admitted, "We've changed everything on the car that we could."
"When I reached the finish line, then I knew it was the run," Ashley continued. "We've had some incredible runs to the eighth-mile. When I got to the finish line, that was probably the most relieved I've been since I started racing Top Fuel."
Ashley will race second-year superstar Billy Torrence in Sunday's first round of eliminations.