POMONA, CA (November 12, 2023) — Justin Ashley and the Phillips Connect Toyota Top Fuel dragster capped one of the most dominant seasons in recent Top Fuel memory with a semifinal finish at the season-ending In-N-Out NHRA Finals. As a six-time national event winner this season Ashley was one of five drivers in contention for the NHRA Camping World Drag Racing Series Top Fuel world champions coming into race day today at In-N-Out Pomona Dragstrip. Ashley entered eliminations Sunday as the No. 8 qualifier with his eye on his first Top Fuel championship. Ashley needed to win the race and for the drivers he was chasing to exit early.
In the opening round facing the reigning 2022 Top Fuel champion Brittany Force Ashley knew his path to victory was not going to be an easy one. Ashley and Force were the first two Top Fuel dragsters to hit the track and it was Ashley turning on the first win light of the day. He was first off the line and never trailed in the drag race. His winning time of 3.715 seconds at 333.74 mph gave him lane choice over No. 1 qualifier Austin Prock in the quarterfinals.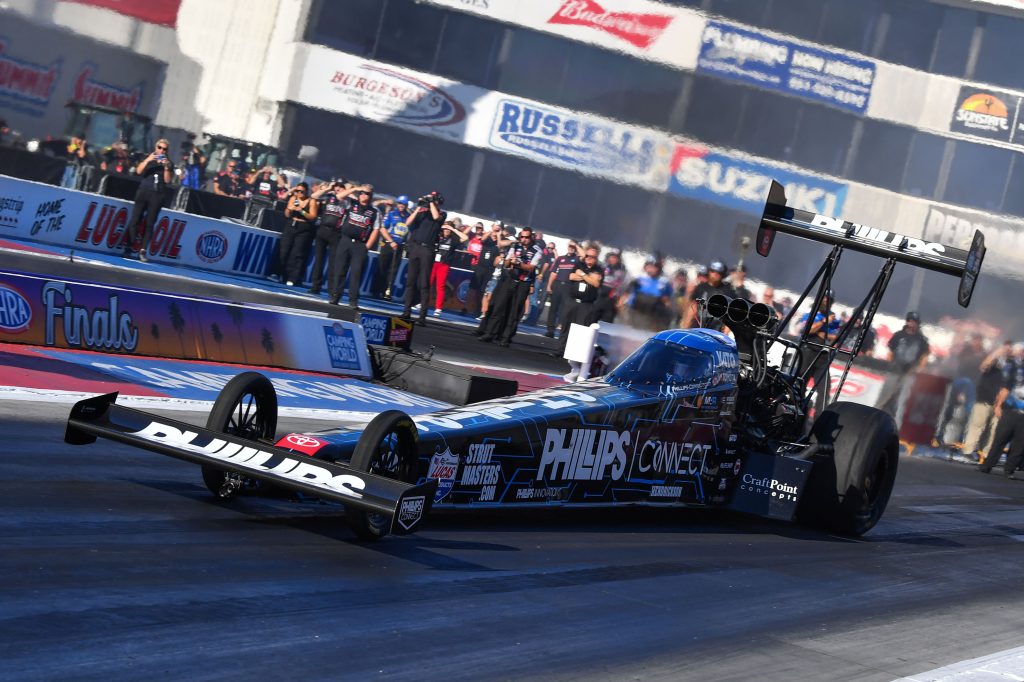 "I always try and do my best to stay even keel," said Ashley. "Our team does the same and I think that's what helps to give us the best chance to win. We could certainly feel the intensity because it's the final day and you never know when it's going to be your last lap of that season. Seeing that win light turn on being the first pair out of first round was really relief more so than anything else."
In the second round Ashley's fate was out of his hands as points leader Steve Torrence was racing his father and teammate Billy Torrence in the first pair of the session. With a win Steve Torrence would mathematically eliminate Ashley from championship contention. Fate did not smile on Ashley and even though he won his second round race against Prock he would have to settle for a fourth place finish in the Top Fuel standings. His winning time of 3.735 seconds against Prock's 3.774 second run advanced him to his eleventh semifinal of the season.
The final four drivers standing at the In-N-Out Finals included Ashley and the three drivers racing for the Top Fuel championship, Doug Kalitta, Torrence and Leah Pruett. Ashley drew Kalitta on his side of the ladder. Ashley took a starting line advantage over his Toyota teammate but Kalitta posted a quicker elapsed time to advance to the final and pave the way to his first Top Fuel world title.
"We feel really good about the season even though we didn't finish the way that we want it to or the way that we expected it to," said Ashley. "We put ourselves in a position to win with three rounds left on the final day of racing. That's really all you can ask for. I am just proud of the effort that this Phillips Connect group put in all year long. It was an impressive effort all year with tight turnaround times, different weather conditions and so many variables but they came through each and every time. I am so grateful for the group led by Mike Green, Tommy DeLago, Dustin Davis and all the Phillips Connect Toyota guys. Having the support of KATO Fastening Systems, Mac Tools, Impact Lucas Oil and all the companies that make this thing go it just adds more motivation for 2024."
Ashley and the Phillips Connect Toyota Top Fuel team will start her 2024 season at the PRO Superstar Shootout at Bradenton Motorsports Park, February 8-10 and he will start NHRA Mission Drag Racing Series at the historic Gatornationals at Gainesville Raceway, March 7-10.
"The more you win, the more you want to win," said Ashley. "We won a lot of races this year, a lot of Mission Foods Challenges, but not coming out with the championship trophy is certainly motivating. I have a lot to learn and we can continue to get better as a team. I know we'll be in good shape next year."
Qualifying Results
Q1: 3.724 sec, 332.02 mph; Qual. 3
Q2: 3.682 sec; 334.73 mph Qual. 5
Q3: 6.991 sec, 82.78 mph; Qual. 5
Q4: 7.973 sec, 75.91 mph; Qual. 8
Bonus Points: 0
Race Results
First RoundJustin Ashley, Phillips Connect Toyota dragster, (.064), 3.715, 333.74 mph def. Brittany Force, Monster Energy dragster, (.063), 5.425, 128.54 mph
Second RoundJustin Ashley, Phillips Connect Toyota dragster, (.051), 3.735, 330.88 mph def. Austin Prock, Montana Brand Rocky Mountain Twist dragster, (.065), 3.774, 319.52 mph
Semifinals Doug Kalitta, Mac Tools Toyota dragster, (.055), 3.723, 322.18 mph def. Justin Ashley, Phillips Connect Toyota dragster, (.043), 3.801, 315.56 mphTop Fuel Top TenTop Fuel Top Ten
1. Doug Kalitta 2619/2649
2. Steve Torrence 2601
3. Leah Pruett 2592/2622
4. Justin Ashley 2513
5. Mike Salinas 2465
6. Antron Brown 2423
7. Brittany Force 2352
8. Austin Prock 2349
9. Tony Schumacher 2297
10. Josh Hart 2280
About Maynard Ashley Racing
Maynard Ashley Racing (MAR) was founded in 2023 with the express goal of delivering world class results, on and off the racetrack, for a growing community of marketing partners and fans drawn to Justin Ashley, the 2020 NHRA Rookie-of-the-Year and seven-time Top Fuel national event winner. Behind Maynard Ashley Racing is a partnership between JCM Racing, led by Joe E. and Cathi Maynard, Joe C. Maynard, and Eric and Kim Lehman, who have taken the NHRA by storm over the last year, and Max Out Motorsports a partnership between Justin Ashley, Dustin Davis and Jim Epler.