INDIANAPOLIS, IN (September 2, 2023) — Top Fuel point leader Justin Ashley wrapped up a season of dominance in the Mission #2Fast2Tasty Challenge today at Lucas Oil Indianapolis Raceway Park during the second day of qualifying for the 69th running of the NHRA U.S. Nationals. Ashley won the specialty race for the sixth time in seven final round appearances defeating Antron Brown in an all-Toyota final. The win netted Ashley and his Phillips Connect Toyota Top Fuel team $15,000 and three more championship points. As the season champion Ashley has won $69,000 in cash and 21 championship points which will be added to his playoff point total following the conclusion of the regular season on Monday night.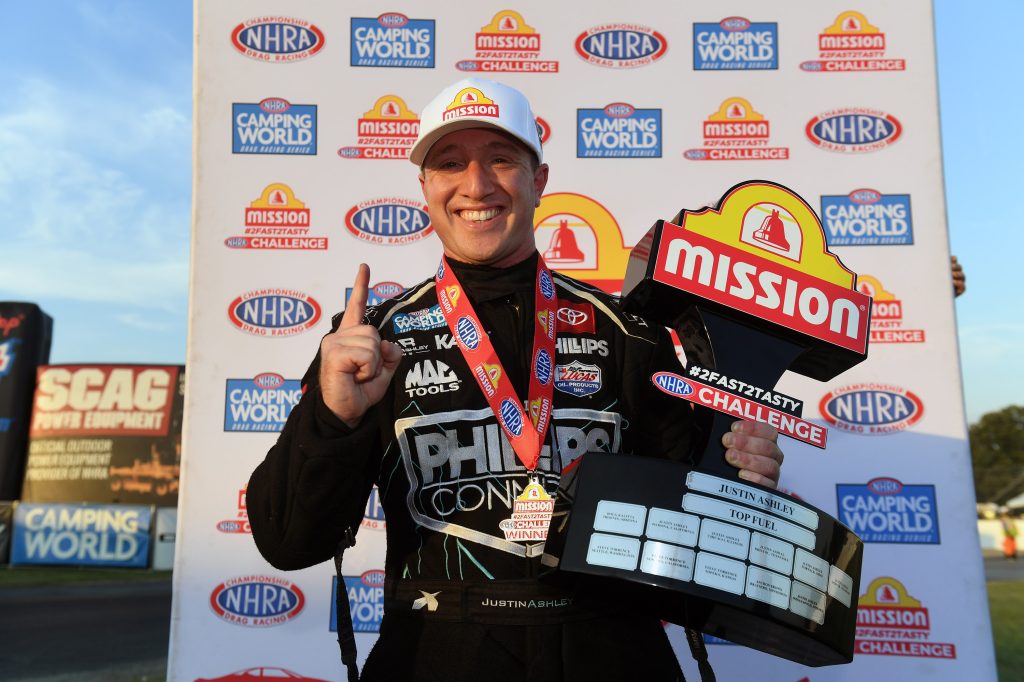 "The Mission #2Fast2Tasty Challenge is great for our fans, teams and drivers," said Ashley, who also has six Top Fuel national event wins this season. "We love it because it is another opportunity to turn on win lights and participate in meaningful racing during qualifying. We learn from every run, but I think there's some momentum that gets carried forward between Saturday and Sunday. "
In the opening qualifying session today, Ashley faced Leah Pruett in a rematch of the Brainerd Lucas Oil NHRA Nationals semifinals. As the starting line Christmas Tree activated Pruett jumped the start turning on the win light for Ashley and advancing him to his seventh Mission #2Fast2Tasty Challenge.
In the final racing against his Toyota teammate Brown Ashley was nearly perfect off the starting line and never trailed in the drag race. It was a perfect ending to a solid day of racing and qualifying for Ashley and the Phillips Connect Toyota Top Fuel team. At the top end Ashley was thrilled to meet the Mission Foods CEO and thank him for sponsoring this amazing program at the biggest race of the season.
"This track is so prestigious. It has so much history and this event is the granddaddy of them all," said Ashley, when asked about the overall U.S. Nationals experience. "I spent a lot of time here as a kid, watching my dad race many years in Pro Mod and then watching him win the 2007 Funny Car title. I remember that moment like it was yesterday. To flip the script and be in this position on behalf of Phillips Connect and Toyota is an honor. When you're racing at this level, you have to have gratitude. I'm grateful just to be in this position and race with an excellent team. I'm just trying to do everything I can to soak in the moment."
Ashley will head into the final day of qualifying as the provisional No. 3 qualifier on the strength of his Mission #2Fast2Tasty Challenge run.
Mission Foods #2Fast2Tasty Challenge Results
Semifinals
Justin Ashley, Phillips Connect Toyota dragster, (.042), 5.891, 209.26 mph def. Leah Pruett, Dodge Power Connect dragster, (.-022), 4.275, 209.26 mph
Finals
Justin Ashley, Phillips Connect Toyota dragster, (.017), 3.714, 334.73 mph def. Antron Brown, Matco Tools dragster, (.039), 3.856, 321.50 mph
About Maynard Ashley Racing
Maynard Ashley Racing (MAR) was founded in 2023 with the express goal of delivering world class results, on and off the racetrack, for a growing community of marketing partners and fans drawn to Justin Ashley, the 2020 NHRA Rookie-of-the-Year and seven-time Top Fuel national event winner. Behind Maynard Ashley Racing is a partnership between JCM Racing, led by Joe E. and Cathi Maynard, Joe C. Maynard, and Eric and Kim Lehman, who have taken the NHRA by storm over the last year, and Max Out Motorsports a partnership between Justin Ashley, Dustin Davis and Jim Epler.