READING, PA (September 17, 2023) — Entering the 2023 NHRA Countdown as the No. 1 seed Justin Ashley and the Phillips Connect Toyota team ran to the No. 1 qualifier position at the Pep Boys NHRA Nationals. On Friday night Ashley posted the quickest time of two days of qualifying, a solid 3.687 second pass and went into race day with a first round match up against No. 16 qualifier Scott Farley. Ashley picked up three qualifying bonus points and had lane choice over Farley.
The NHRA moved the start time for the race up to 9:30 a.m. ET and Ashley's team was ready to go when they pulled up to the water box. The Phillips Connect Toyota Top Fuel team fired up and began their pre-race routine, but Farley's team was unable to fire their 11,000-horsepowered Top Fuel dragster. Ashley was awarded a competition bye. The six-time winner this season launched and powered down the left lane before he hazed the tires and coasted across the finish line for the win light with a 6.496 second pass at 91.75 mph.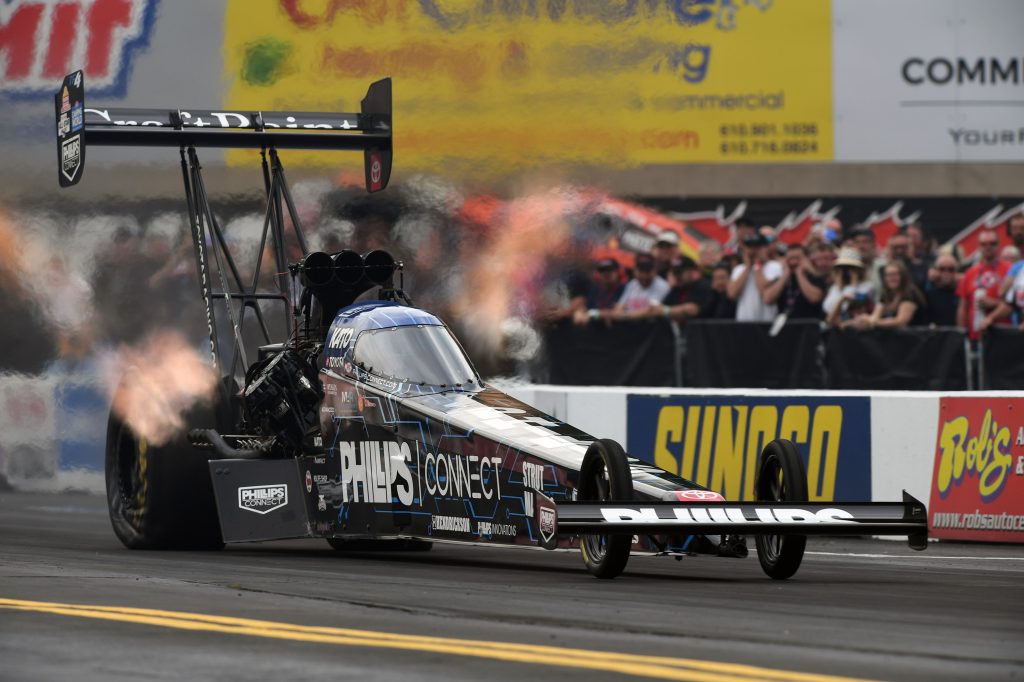 The win propelled Ashley to a race with the eight-time Top Fuel world champion Tony Schumacher. This season Ashley was 3-0 in his head-to-head races against Schumacher, but he gave up lane choice in the second round. When the dragsters launched it was Schumacher getting off the line first, but Ashley was right beside him flying down the track. Unfortunately, the starting line deficit was too much to overcome and Ashley's quicker 3.707 second run wasn't enough to get to the stripe first. At the top end Ashley was complimentary of his opponent but also focused on the overall goals for the team.
"That team deserved to win and Tony did a great job, I'm really happy for them," said Ashley, who leads the category in reaction time average. "They've been struggling all year, but this is a part of racing. It's disappointing but this sport has so many ups and downs. We get that and we understand that it's a six-race countdown. There's plenty of time to win this championship. I apologized to my team, I let us down there but that's okay. We'll be fine this Phillips Connect team has been doing such an outstanding job so we'll put these Mac Tools back to work, and we'll see everyone in Charlotte."
Last season Ashley raced his way into the point lead during the Countdown but did not walk away with the championship ultimately finishing fourth for the second season in a row. The fourth-year driver and team owner is leaning on that experience to move past this race.
"Experience helps both on and off the racetrack," said Ashley. "We will make sure that we're set with all our parts and pieces. Our approach is not going to change. We're gonna continue to do the same thing week in and week out just because we are in the countdown doesn't mean we're hyper-focused or we are changing anything that we're doing. We're just going to stay within our approach and stay within ourselves. The points will take care of themselves."
Rain halted eliminations one pair into the Top Fuel semifinals with Doug Kalitta advancing to the final round and Steve Torrence versus Tony Schumacher still left to race. As of tonight, with five races left in the Countdown Ashley and the Phillips Connect Toyota team are sitting No. 1 in the point standings. The eventual outcome of this race could drop the six-time 2023 winner to No. 2. They will be back on track in five days at the Betway Nationals from zMax Dragway, September 22-24.
Qualifying Results
Q1: 5.934 sec, 106.88 mph; Qual. 11
Q2: 3.687 sec, 335.57 mph; Qual. 1
Q3: 3.756 sec, 332.06 mph; Qual. 1
Q4: 3.732sec, 332.18 mph; Qual. 1
Bonus Points: +3 (Quickest of Q2)
Race Results
First RoundJustin Ashley, Phillips Connect Toyota dragster, (.062), 6.496, 91.75 mph def. Scott Farley, ScottRod Racing dragster, Did Not Run
Second Round Tony Schumacher, SCAG dragster, (.025), 3.716, 329.26 mph def. Justin Ashley, Phillips Connect Toyota dragster, (.049), 3.707, 333.41 mph
About Maynard Ashley Racing
Maynard Ashley Racing (MAR) was founded in 2023 with the express goal of delivering world class results, on and off the racetrack, for a growing community of marketing partners and fans drawn to Justin Ashley, the 2020 NHRA Rookie-of-the-Year and seven-time Top Fuel national event winner. Behind Maynard Ashley Racing is a partnership between JCM Racing, led by Joe E. and Cathi Maynard, Joe C. Maynard, and Eric and Kim Lehman, who have taken the NHRA by storm over the last year, and Max Out Motorsports a partnership between Justin Ashley, Dustin Davis and Jim Epler.