BRAINERD, MN (August 19, 2023) — Justin Ashley and the Phillips Connect Toyota Top Fuel dragster powered by Okuma saved the best run for last today at the Lucas Oil NHRA Nationals running to the Top Fuel No. 1 spot. Entering the final qualifying session in hot conditions Ashley was sitting No. 6 but his surprising 3.746 second pass at 328.14 mph moved him to the top of the class and a first round race with No. 14 qualifier Terry Totten. This was Ashley's second No. 1 of 2023 and first at Brainerd International Raceway.
"That's an excellent run with the conditions what they were (hot), nothing necessarily surprises me with the team that we have with Mike Green and Tommy DeLago," said Ashley, who has six wins in 2023. "It just speaks volumes for our team. This is kind of a unique situation because I'm not sure how much of that you can actually take and apply it to tomorrow because it's going to be cooler. It'll be much different out there tomorrow. But nonetheless, what we did was, at least position ourselves the best that we can heading into race day. I don't care who we're racing now. I feel like it's hard to even win on a bye run out there. It's going to be tough starting with our good friend Terry Totten over there. I never take anyone lightly so I am looking forward to hopefully what will be a long and exciting race tomorrow."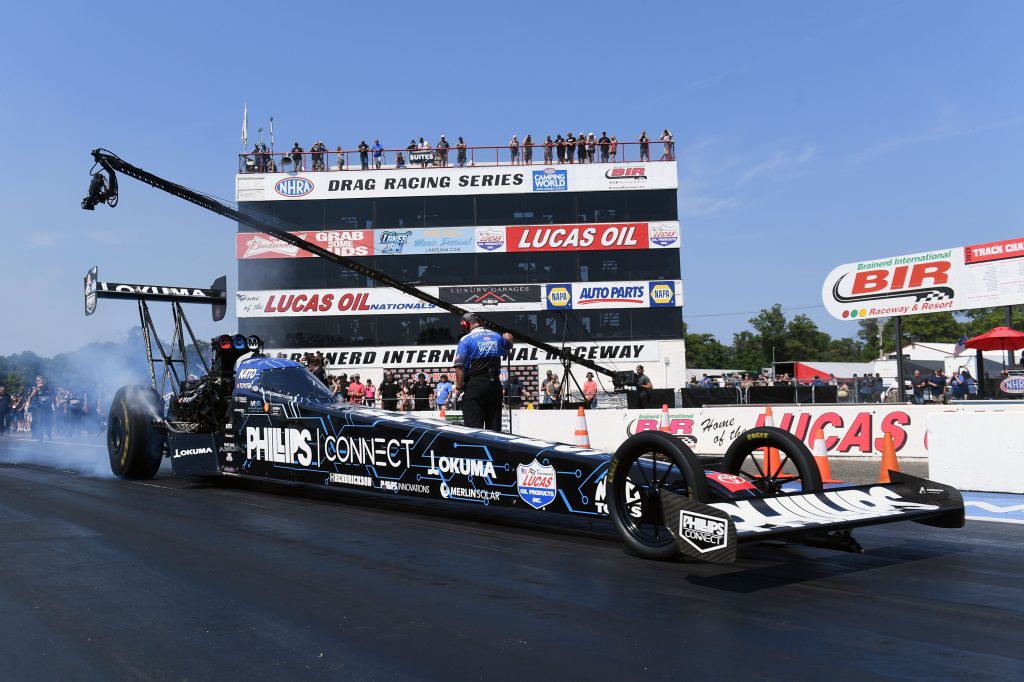 During the first qualifying session today at the Lucas Oil NHRA Nationals Ashley and the Phillips Connect Toyota Top Fuel dragster powered by Okuma earned one championship point but did not advance to the final round for the first time in seven appearances in the Mission #2Fast2Tasty Challenge. Ashley dropped a close race to Antron Brown, 3.842 seconds to 3.804 seconds. By virtue of his quicker elapsed time compared to Clay Millican's 3.886 second pass Ashley grabbed the championship point awarded to the quickest semifinalist.
"We got a championship point and I really think when the Countdown get going these championship points are going to be very important," said Ashley. "We are going to turn our attention to the last qualifying session and see if we can improve a little. The weather is going to change dramatically but we still have a chance to get some of those qualifying bonus points."
The race with Toyota teammate was the second time Ashley faced Brown in the Mission #2Fast2Tasty Challenge and the championship contending teams are now 1-1 in the specialty race that awards cash and championship points. Ashley pocketed $1,000 for his effort bringing his total cash winnings to $54,000 to go along with 18 championship points in seven Mission #2Fast2Tasty Challenge events. The final numbers from the race had Ashley's 3.842 second, 320.20 mph against Brown's 3.804 second, 326.56 mph.
"Days like today give us a lot of confidence," said Ashley. "Those points are so important, round win points are obviously you could say the most important right, but in addition to that these bonus points and these Mission Foods #2Fast2Tasty points are just so critical and they're really going to add up you know with the Mission Foods deal. The fact that it's after the points reset makes it that much more significant and even, you know, taking every lap and trying to collect as many points as you can even during qualifying is just critical. Our Phillips Connect Toyota team that's always in mind and you know, our team has been doing a great job of trying to take advantage of every opportunity that we have out there."
Ashley and the Phillips Connect Toyota team powered by Okuma will head into eliminations as the No. 1 qualifier and will race Terry Totten in the first round. Final eliminations will begin tomorrow at 11:00 a.m. CT. The race will be broadcast nationally on FOX from 4:00 p.m. – 7:00 p.m. ET tomorrow.
Mission Foods #2Fast2Tasty Challenge Results
Semifinals
Antron Brown, Matco Tools dragster (.067), 3.804, 326.56 mph def. Justin Ashley, Phillips Connect Toyota dragster powered by Okuma, (.089), 3.842, 320.20 mph
About Maynard Ashley Racing
Maynard Ashley Racing (MAR) was founded in 2023 with the express goal of delivering world class results, on and off the racetrack, for a growing community of marketing partners and fans drawn to Justin Ashley, the 2020 NHRA Rookie-of-the-Year and seven-time Top Fuel national event winner. Behind Maynard Ashley Racing is a partnership between JCM Racing, led by Joe E. and Cathi Maynard, Joe C. Maynard, and Eric and Kim Lehman, who have taken the NHRA by storm over the last year, and Max Out Motorsports a partnership between Justin Ashley, Dustin Davis and Jim Epler.