TOPEKA, KS (August 13, 2023) — On the 30th anniversary of Jim "Mr. 300" Epler's historic Funny Car accomplishment, the now Executive Vice-President of Phillips Connect, Justin Ashley's primary sponsor, was able to celebrate in the winner's circle after Ashley won for the sixth time this season at the Menards NHRA Nationals presented by PetArmor. It was October of 1993 when Epler flew down the historic Heartland Motorsports Park track to break the last significant Funny Car speed record. Unfortunately, Epler was not able to capitalize on his run with a win, but today he was front and center with Ashley for four win lights and some closure to a significant NHRA career.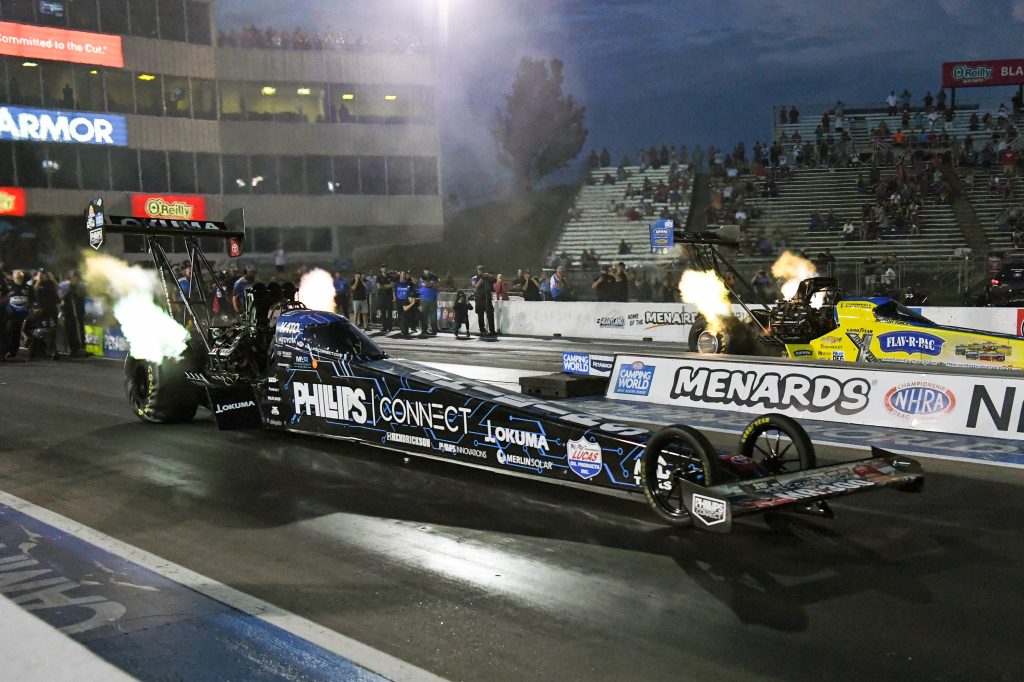 "It is its closure, you know, for me," said Epler, in the pressroom standing beside his young championship contending driver. "Our car was running really good that day. We went 300 mph and then a parts failure caused the car to burn up and we couldn't even make it to the semis. That was a historic race, but you'd love to get the big record and then win the race. I was surprised when Justin's team put my likeness from that day, on his car's front wing. You always think he's got a legitimate chance to win, and we talked about it but that doesn't make it happen. It's I'm just still like, really blessed that we were able to pull that off and there is a little bit of closure there."
For Ashley today was a marathon for the seven-time finalist in 2023. A six-hour rain delay pushed back the start of the event until nearly 4 p.m. local time. Ashley, as the No. 7 qualifier, had to face one of his toughest recent opponents, Josh Hart. The pair recently met in the semifinals two weeks ago at the Sonoma Nationals with Ashley advancing to a final and another win in one of the closest races of the day. Yesterday the duo met in the Mission #2Fast2Tasty Challenge rematch race with Ashley once again getting the upper hand.
Today, in one of the closest races of the first round the Phillips Connect Toyota dragster which also receives backing from KATO Fastening Systems, Lucas Oil, Mac Tools and Toyota, made a strong 3.753 second run to get the win over Hart's tire smoking 5.259 second pass. Ashley made his quickest and fastest pass of the weekend to get the win. Throughout the day Ashley credited his team led by crew chiefs Mike Green and Tommy DeLago with leading the crew and Maynard Ashley Racing team to another win.
"We had four incredible turnarounds today and the team did a great job," said Ashley, who now has 11 Top Fuel titles. "Their ability to maintain their composure and consistency on and off the racetrack is so unique. This weekend we had different conditions and tight turnarounds to beat the weather. We really didn't know what today was going to bring, every driver, every team was under the same circumstances. It really speaks volumes to how strong this team is and that gives me lot of confidence as a driver."
In the quarterfinals Ashley drew Leah Pruett and her Tony Stewart Racing backed Top Fuel dragster. Ashley had an excellent reaction time and never trailed in the race. He once again ran low elapsed time of the round and took lane choice into the semifinals over Toyota teammate Antron Brown. Ashley's reaction time of .035 seconds combined with his 3.755 second elapsed time showed that he had the car and driver combination to beat in Topeka.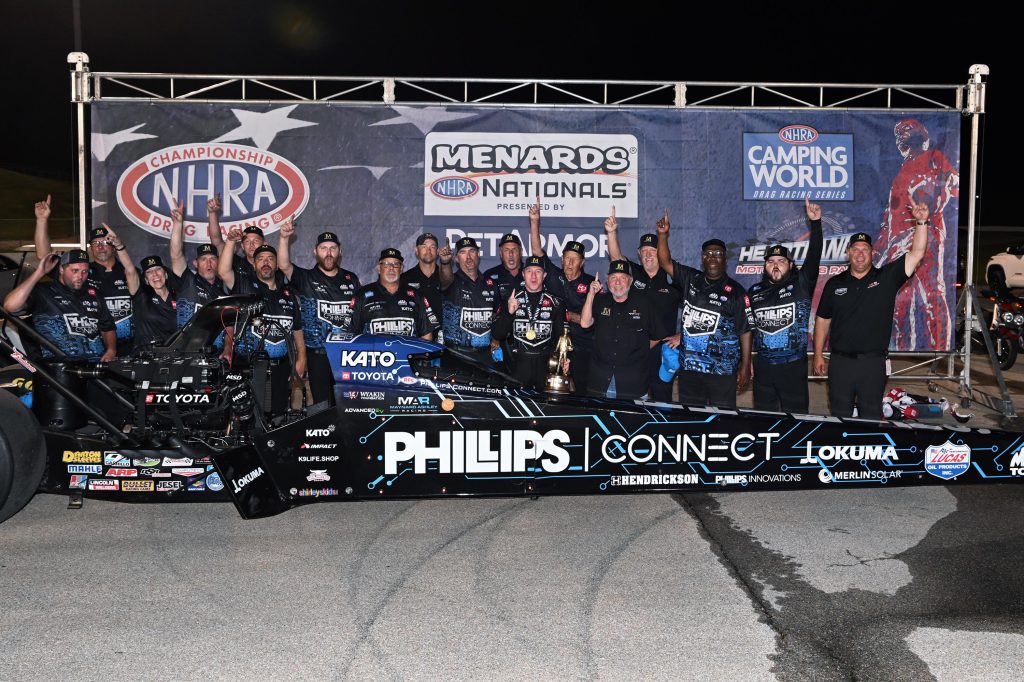 Racing Brown for the fourth time this season, the 2020 NHRA Rookie of the Year was looking for his fifth consecutive win light against the three-time Top Fuel world champion. The pair have met previously in two semifinals and two final rounds with all the races going in Ashley's favor. Today continued the trend with Ashley using a starting line advantage to grab the win on a slight hole shot win with his 3.726 second time getting his 11,000-horsepower Phillips Connect dragster to the finish line in front of Brown's quicker 3.711 second run. The third win light of the day and seventh win light in a row going back to his win at the Sonoma Nationals set Ashley up for a final round against Brittany Force, the reigning Top Fuel world champion.
Ashley was looking to add one more piece of history to the final NHRA national event at Heartland Motorsports Park. In 2007 his father Mike Ashley defeated Jim Head in the final round to win the Funny car title. A win today would make the current Menards NHRA Nationals the first event the father and son each had victories. In a final under the lights Ashley was nearly perfect getting the jump off the starting line .034 to .049 and pairing his advantage with a quicker 3.702 second run against Force's 3.707 second pass. Both dragsters crossed the finish line side by side at over 320 mph to close the book on Top Fuel in Topeka.
"You're always concerned, because we know how good (Force's crew chief) David Grubnic and Brittany are together," said Ashley. "They did a fantastic job all day. We know what they did last year. They are the champions for a reason. But at the end of the day, I think our approach is unique. It's a little different than some of the other teams out here. We just don't focus on what's going on in the other lane. We raced our race and stay within ourselves and do the very best that we can. It's almost the same situation as it would be during qualifying because, you know, we just go up there with the same approach every time."
The win extended Ashley's Top Fuel points lead over second place Steve Torrence to 83 points, or over four rounds, with only two races before the Countdown starts. Ashley also picked up an additional two championship points as the Mission #2Fast2Tasty Challenge runner-up to add to his winnings along with an additional $3,000. He will once again compete in the Mission Foods sponsored event at the Lucas Oil NHRA Nationals next weekend at Brainerd Internationals Raceway.
"I watched guys like Tony Schumacher, Antron Brown, and Steve Torrence dominate for years and you just kind of watch and think man how incredible would it be to be in that position? You know, now we're in that position a little bit," said Ashley. "We are racing against some of what I consider to be legends like Steve, Tony, and Antron and it's almost like I have to pinch myself. I really can't believe it. I just feel grateful to be out here racing, let alone winning."
Qualifying Results
Q1: 3.818 sec, 322.88 mph; Qual. 3
Q2: 3.838 sec, 319.67 mph; Qual. 3
Q3: 3.842 sec, 319.37 mph; Qual. 7
Bonus Points: +4 (3rd quickest of Q1 and quickest of Q2)
Race Results
First Round
Justin Ashley, Phillips Connect Toyota dragster, (.033), 3.753, 329.26 mph def.  Josh Hart, R+L Carriers dragster, (.013), 5.259, 134.35 mph
Second Round
Justin Ashley, Phillips Connect Toyota dragster, (.035), 3.755, 327.35 mph def. Leah Pruett, Rayce Rudeen Foundation dragster, (.054), 3.794, 325.92 mph
Semifinals
Justin Ashley, Phillips Connect Toyota dragster, (.039), 3.726, 326.87 mph def. Antron Brown, Matco Tools Toyota dragster, (.059), 3.711, 325.92 mph
Final Round
Justin Ashley, Phillips Connect Toyota dragster, (.034), 3.702, 322.88 mph def. Brittany Force, Monster Energy dragster, (.049), 3.707, 323.58 mph
Camping World Drag Racing Series Top Ten – Top Fuel
1. Justin Ashley 1052
2. Steve Torrence 969
3. Brittany Force 829
4. Antron Brown 793
5. Leah Pruett 777
6. Austin Prock 766
7. Doug Kalitta 710
8. Mike Salinas 688
9. Josh Hart 683
10. Clay Millican 680