PLAINVIEW, NY (May 15, 2023) — Top Fuel standout Justin Ashley is ready to return to Chicago with his Phillips Connect Toyota Top Fuel dragster and the rest of the NHRA Camping World Drag Racing Series. Ashley competed in two national events in the Top Alcohol Dragster category at the stadium style facility located in Joliet, Illinois when he was getting his career started. A lot has happened to Ashley since he buckled up for those high-speed passes down Rt. 66 Raceway in 2017 and 2018. He's made the jump to Top Fuel, earned rookie of the year honors in 2020 and is a championship contender for the second consecutive season. With two wins already in 2023 Ashley and his Phillips Connect Toyota team are ready to reintroduce themselves to the Chicago area fans and two wide racing.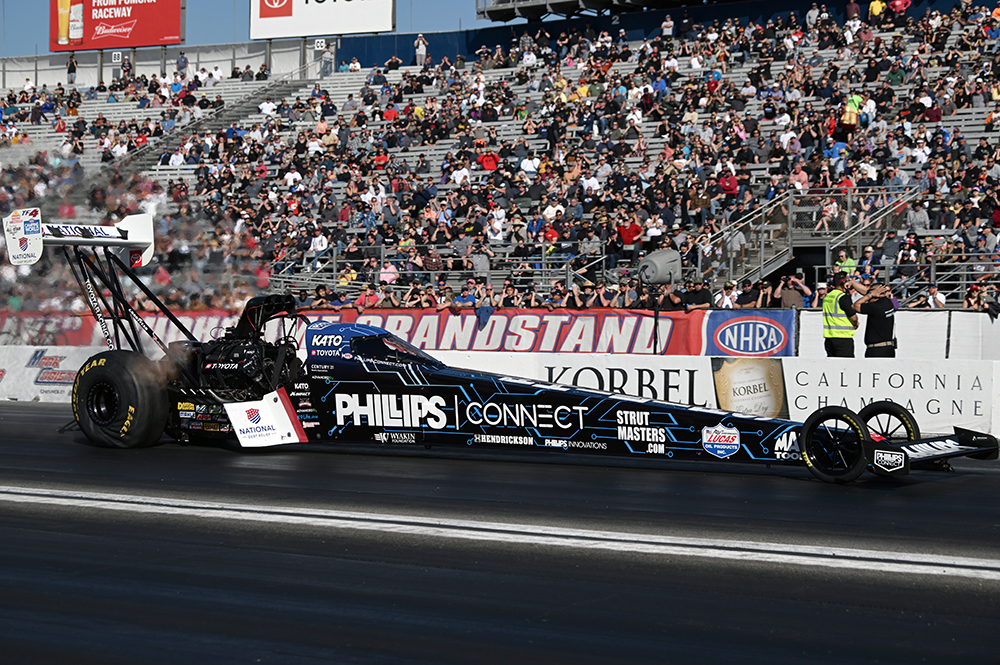 "I am definitely looking forward to getting back into the rhythm of traditional two-ride racing," said Ashley, a seven-time Top Fuel winner. "Four-Wide racing certainly has its place and I have the utmost respect and appreciation for the level of excitement it brings to our sport. But we've now shifted our focus to Chicago and the traditional two-wide style of racing that comes with it. Our Phillips Connect Toyota team can't wait for our return to Route 66 Raceway.
In addition to his Top Fuel responsibilities Ashley will be participating in a Toyota Supra race against Funny Car world champion Ron Capps on Friday. On Saturday by virtue of his win at the Winternationals Ashley along with the three other Winternationals semifinals will be racing for $10,000 and up to three championship points during the Mission #2Fast2Tasty Challenge. Ashley faces a rematch with Toyota teammate Antron Brown who he outran in Pomona during Saturday's first round of qualifying. In Pomona Ashley took the #2Fast2Tasty win outrunning Steve Torrent and Leah Pruett and he will be looking to make it two specialty wins in a row.
"It's going to be a busy weekend on and off the racetrack. The Toyota Supra race is something that I have been looking forward to since the first go-around in Pomona. The Supras are comfortable, fast and provide excellent entertainment for the fans. The Mission #2Fast2Tasty Challenge is a great opportunity to pick up valuable championship points early in the season. But our approach will remain the same. We will be focused on ourselves regardless of the opponent in the other lane."
Since the start of the season Ashley and his Phillips Connect Top Fuel team that also receives major support from Mac Tools, Strutmasters.com, Lucas Oil and KATO Fastening Systems has been one of the toughest race cars on tour. At the top of the class in reaction time advantage and having a Mike Green and Tommy DeLago tuned 12,000-horsepower land rocket has made Ashley a tough out on race day. Heading into the summer months Ashley is looking to keep the pressure on the competition.
"We have a great team," said Ashley. "It's cliché. But we are only focused on being the best version of ourselves that we can be. We aren't even halfway through the regular season yet, but we know runs we make now could pay off in the Countdown. Whether that's during the Mission Challenge, qualifying, or on raceday, they all add up the same."
The last time NHRA hosted a national event at Rt. 66 Raceway Steve Torrence took the Top Fuel title and Tony Schumacher is the winningest Top Fuel driver in Chicago with five wins. There are a handful of Ashley's competitors with Top Fuel experience, but the driver and team owner is ready to take on the challenge.
"I think it is great we are going back to Chicago and racing at a venue that has a long history with NHRA," said Ashley. "Mike, Tommy and the rest of our team have plenty of experience at this track. I love the stadium style racing and want to keep our momentum going into the summer."
Qualifying will begin on Friday May 19 with one session at 6 p.m. followed by two rounds of qualifying on Saturday at 2 p.m. and 5:30 p.m. The quickest 16 Top Fuel dragster will take to the Rt. 66 Raceway track at 11 a.m. on Sunday. The race will be televised nationally on FS1.