POMONA, CA (April 1, 2023) — Reigning NHRA Lucas Oil Winternationals winner Justin Ashley saved the best for last today at In-N-Out Dragstrip racing to the No. 1 qualifier position and winning the $10,000 top prize in the Mission #2Fast2Tasty Challenge outrunning Leah Pruett in the final round. His winning time of 3.707 seconds at 330.15 mph moved him around provisional Top Fuel No. 1 qualifier Brittany Force and earned the 2020 NHRA Rookie of the Year three important qualifying bonus points. It was a monster run for the Phillips Connect Toyota Top Fuel dragster powered by National Debt Relief as they head into Sunday looking to defend their Winternationals title and win for the second week in a row after taking the win at the NHRA Arizona Nationals.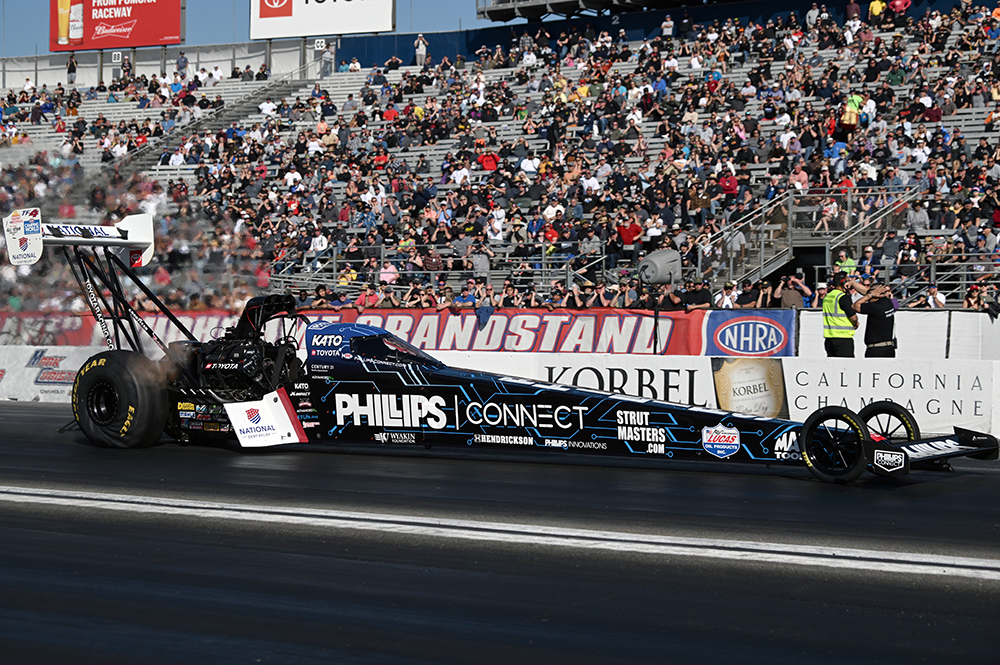 "I think this is probably the best Saturday I think I've ever had at the racetrack," said Ashley, from the Shav Glick Media Center. "It's amazing to win the Mission 2Fast2Tasty Challenge and go to No. 1. It's great for the fans, but it's also great for the teams. It really was a great day for this Phillips Connect Toyota team powered by National Debt Relief, and it is a positive step in the right direction."
In the first round of qualifying Ashley defeated Steve Torrence in a close race. Ashley was first off the line and his 3.751 second pass held up at the finish line for the win.
"Arizona really paid dividends for us not only because we won the race, but we got four extra rounds of racing on Sunday," said Ashley. "We have a new tune up and new combination. Mike Green and Tommy DeLago have obviously done a great job learning and adapting and you saw the results here this last session. Mike and Tommy have been doing a great job and we are seeing the benefit these past two races. You want to find some kind of momentum and maintain some kind of consistency. To be able to take what we did in Phoenix and now apply it here so far, Friday and Saturday really goes a long way. It gives us more data, more information, more to learn from for our Phillips Connect team."
This was the third No. 1 qualifier for Ashley and the Phillips Connect team and first of the 2023 season. The last time Ashley was No. 1 he raced to the final round at the Betway Nationals zMax Dragway outside of Charlotte during the 2022 NHRA Countdown. The fourth-year pro gave all the credit to his team and their efforts throughout the offseason and the start of this season.
"We're resilient. These guys don't stop until we get it right and. Mike and Tommy have championship winning experience and it really pays dividends. You see it every run. Those guys are quiet, they're meticulous. They go about their job the right way and I'm just happy with today's result."
Ashley will face No. 14 qualifier Krista Baldwin in the first round. A win in the first round would provide a bye run in round two. Ashley and his team are not taking anyone lightly in one of the toughest Top Fuel fields in recent memory.
"Make no mistake about it. We are racing Krista Baldwin in the first round, but we are not looking past that match-up," said Ashley. "Everybody out here has good stuff and we have got to do our job. The focus will be on round one and we won't change our focus until we light up a win light tomorrow."
The first round of the NHRA Lucas Oil Nationals will begin at 11 am. Tomorrow following the opening ceremonies at In-N-Out Pomona Dragstrip. The race will be televised nationally on FS1.