LAS VEGAS, NV (April 16, 2023) — The four-wide format has been a work in progress for Justin Ashley and the Phillips Connect Toyota Top Fuel dragster. The four-year pro rolled into The Strip at Las Vegas Motor Speedway with the points lead and a two-race win streak. Through two days of qualifying Ashley made four runs with the final three positioning the 2020 Rookie of the Year as the No. 4 qualifier coming into race day.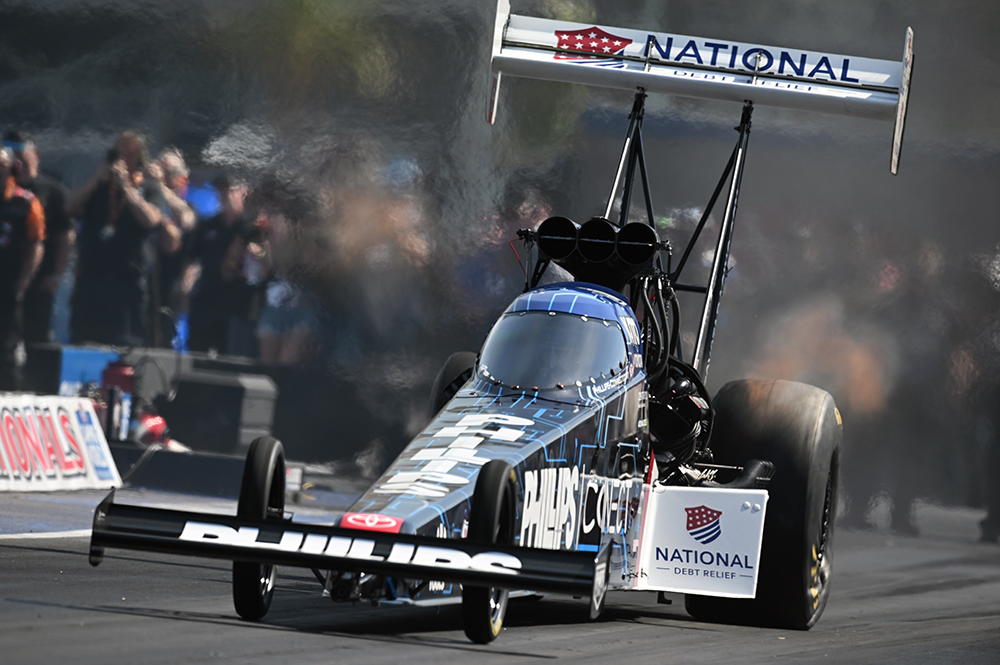 In the opening quad Ashley faced Leah Pruett, Austin Prock and Rob Passey. It was another head-to-head race between Ashley and Prock who last met in the final round of the Winternationals and the foursome was featured during the opening ceremonies as the day's marque match-up. Ashley was first off the starting line with a .051 reaction time but his Phillips Connect Toyota dragster smoked the tires. In a veteran move Ashley was off the throttle and right back under power charging after Pruett, Passey and Prock. He was able to start making up a power deficit but ran out of real estate to Pruett and Passey who were on clean passes.
"We just fell short in a tough quad," said Ashley. "We ran great during qualifying and felt confident in our plan going into Sunday. But these things happen. Our Phillips Connect Toyota Racing team is very much looking forward to Charlotte."
Ashley will leave Las Vegas sitting in second place in the point standings less than a round out of first place behind today's runner-up finisher Toyota teammate Steve Torrence. Ashley's other Toyota teammate Antron Brown secured his first win of the season at The Strip.
"This was a great day for Toyota and our teammate Antron Brown. I am so grateful for the opportunity to work with Antron, team Toyota, Phillips Connect, Mac Tools, KATO Fastening Systems, Lucas Oil and all of our partners. said Ashley. "We have turned on a lot of win lights already this season and can't wait to get back to work."
The Circle K NHRA Four-Wide Nationals will be contested April 28-30 and Ashley secured his first career No. 1 qualifier at the track last year. Since that time Ashley has earned two more No. 1s including the historic NHRA Winternationals.
Qualifying Results
Q1: 12.555 sec, 66.74 mph; Qual. 14
Q2: 3.749 sec; 330.47 mph; Qual. 4
Q3: 3.730 sec, 330.63 mph; Qual. 3
Q4: 3.735 sec, 330.88 mph; Qual. 4
Bonus Points: +7 (2nd quickest of Q2, quickest of Q3 and 2nd quickest of Q4)
Race Results
First Round
First: Leah Pruett, Code 3 Associates dragster, (.076) 3.779, 319.60 mph
Second: Rob Passey, Seven 23 dragster, (.111), 4.074, 276.69 mph
Austin Prock, Montana Brand/Rocky Mountain dragster, (.052) 4.172, 258.96 mph
Justin Ashley, Phillips Connect Toyota dragster, (.051) 4.211, 313.22 mph