Third year Top Fuel team owner and driver Justin Ashley raced his Phillips Connect Toyota Top Fuel dragster powered by Vita C Energy to three wins and seven final round appearances. Ashley led the points in the Countdown for the first four races before settling for a fourth place finish in one of the toughest Top Fuel fields in recent history. The always optimistic and positive owner/driver reflected on his success and the future during the recent PRI Show in Indianapolis.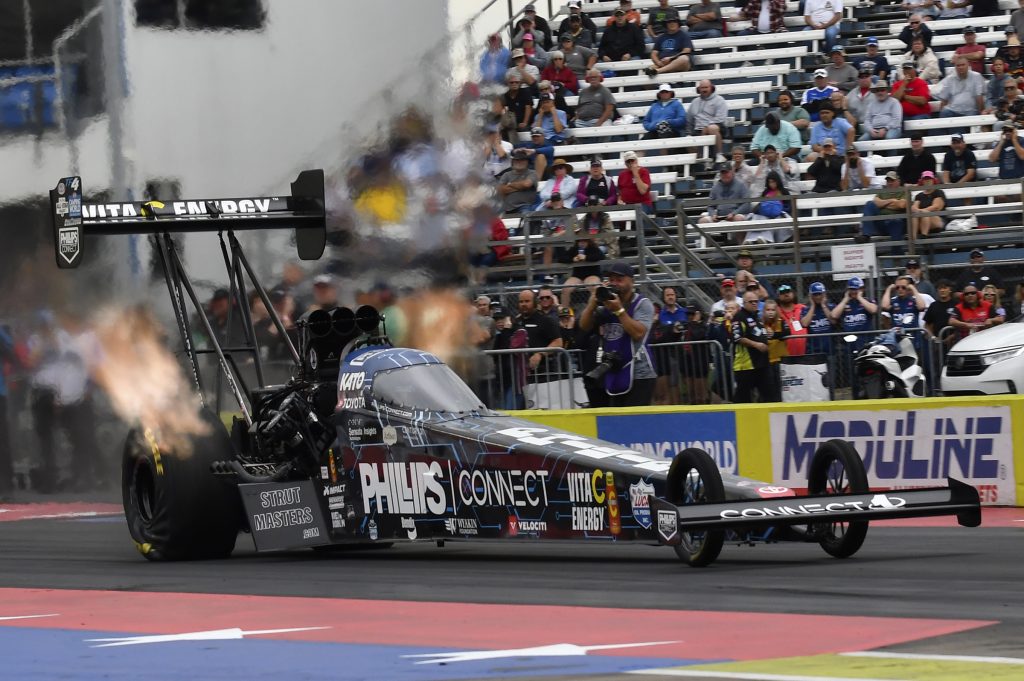 When you look back at this season and compare it to your rookie year, what is one thing that surprised or stood out to you that you're still learning as a driver as a team owner?
"Yeah, I think probably the thing that I'm still learning the most is, how to develop a routine that works best for me. Over the course of a 22-race season, you have everything from your travel schedule to what times you get to the track, what times you leave the track, and what routine helps provide your team with the best opportunity to win. I think that's something that's taken me by surprise, the importance of that, and maintaining some semblance of consistency when things around you frequently change. So that's something that I'm still working on, to kind of find that routine that works best."
What were the highlight moments for you this season? Was it winning the season opening race or the win in Dallas?
"Obviously the wins are the ones that stand out. I think Pomona was the most meaningful because it was the launching pad for our partnerships with Phillips Connect and Toyota. Winning such a prestigious event at Phillips Connect's hometrack was a huge boost of confidence that we carried forward throughout the rest of the season."
"And then also the win in Dallas was particularly special because of where it landed during the season. It really helped us gain a lot of ground and extend our points lead at the time and gave us an opportunity to compete for that championship on Sunday in Pomona. That's a special event because of everything that goes on around it, and how entertaining it is for the drivers, for the teams and the fans."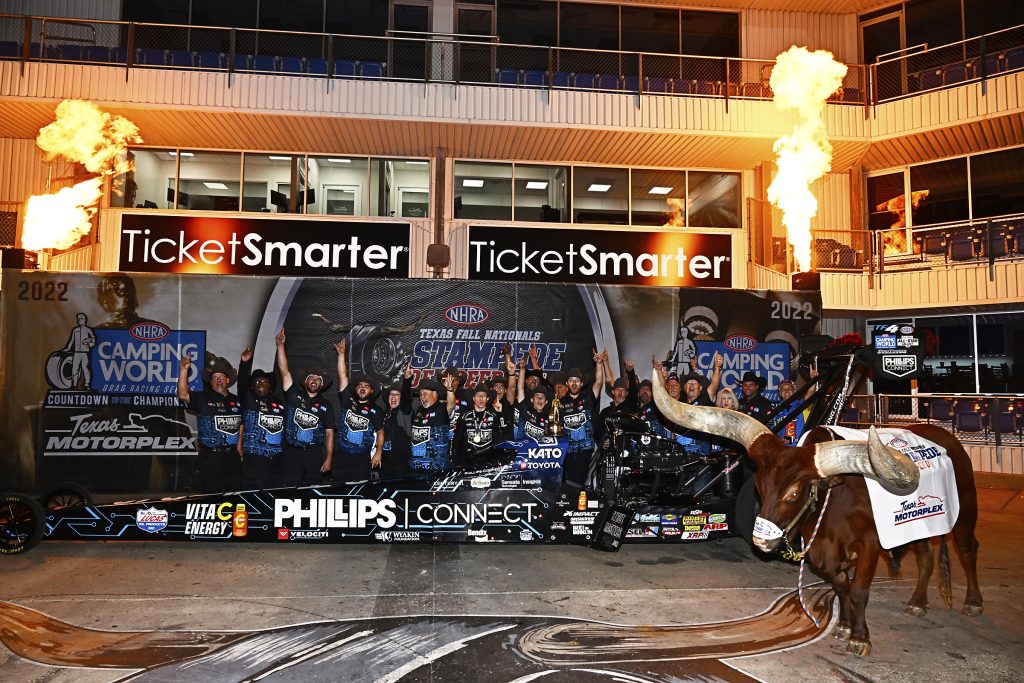 You've won the Texas Fall Nationals back-to-back now. Do you now look at 2023 and say, "Oh, I gotta keep that streak alive?"
"It's funny because I've heard people say some drivers have more success at certain racetracks than others. But I never really put much stock into that because each event is its own opportunity. But now I'm like, well, you know, I started to think about it, we went back-to-back, and maybe there's an opportunity to go three in a row there. I think maybe there is something to that theory. So that thought has crossed my mind. Our team wants to win every race that we go to but that's a special event. I get to pick the dessert next year for the Champions Dinner, which will be a lot of fun. We'd love to be able to triple up.
You're kind of getting into the groove of four-wide racing. Is that an area that you kind of look at, oh, "Hey, this is something that I can continue to just get better at."
"Yeah, that's great point. Four-wide racing is a different animal, primarily because of two reasons. It's the staging process, right? Most drivers and teams are very routine oriented so when things change, relative to the norm, it can easily creative a shift. But also the pedaling process is different, because normally, you can look to your left or right and decide, okay, I'm going to pedal or okay, you know, today's not my day. But in this instance, when there's three other cars next to you, you've really got to pedal no matter what. It's a completely different process, a different understanding. The more I have the opportunity to race in four-wide events, the more comfortable I'll continue to get."
Are there tracks or events that you kind of look at and say I can't wait to win that race or do well at that race? Or are there other races kind of on your bucket list that you want to win?
"Obviously the U.S. Nationals, right. My father won that race in Funny Car in 2007. And aside from winning the championship, that's the that's the biggest thing that you can win, you know, that kind of cements your place in NHRA history. The U.S. Nationals has always stood out as a big one for me because of the prestige. And then also the Pep Boys All-Star Call Out, the new shootout that they have going on, that's really, really exciting. It's at the seasoning open race this year in Gainesville. I think the call out would be a great, great event to win. It's an opportunity for us to win two races in one weekend."
This is really the first time in your career that you are going into a full season when all you really need to concentrate on is maintaining a sponsor and racing. How much of a comfort level is that for you?
"It's a tremendous comfort level. What I love about our relationship with Phillips Connect is that it's a true win-win. It's the beginning of something special and the greatest opportunity in motorsports. Together, we're going to use this platform to generate a lot of business for Phillips Connect and generate growth within our program. It definitely helps provide stability and we would not be racing nor be in this position without Phillips Connect. I am so grateful for our partnership and very much look forward to representing their company in the best light on and off the racetrack."
Can you talk about your relationship with fellow team owner Dustin Davis? He works on the car, so that relationship, is unique in the sport.
"The first time I met Dustin was at PRI, in I believe 2018 and we went out to dinner and just discussed the opportunities. And it's kind of humbling to look back and see where we started and how far we've come. We have a great relationship. He's a guy that really takes pride in the work that he does. To see him out there working on the clutch with the guys is special. He defines what it means to lead by example and is certainly the hardest working person I know. He leads an excellent group of personnel that help to establish a certain winning culture within our organization.
What are you going to do in the offseason that's totally unrelated to racing?
"Totally unrelated to racing? That's a good question. I think probably, you know, the most important thing to me is spend time with my family around the holidays. That's something that I always enjoy. We're going to spend some time in Florida which will be nice being from New York, being in the warm weather. It'll give us a chance as a family to spend some time out on the water, enjoying being around each other, enjoying the holiday season. So that's probably the most special part of the offseason."