TOPEKA, KS (August 14, 2022) — With former Heartland Motorsports Park track record-holder and barrier-breaker Jim Epler looking on, Justin Ashley drove his Phillips Connect Toyota Top Fuel dragster powered by Vita C Energy into the semifinals at the 33rd Menard's NHRA Nationals presented by Pet Armor before losing to three-time former world champion Antron Brown with whom his team maintains a technical alliance.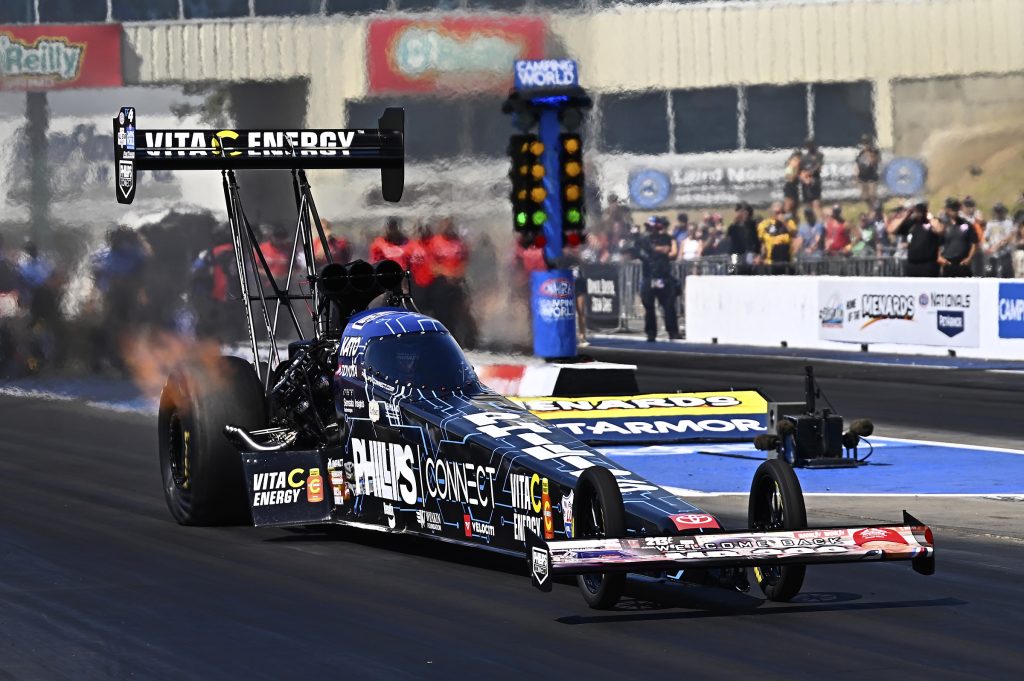 "There were a lot of positives on and off the race track this weekend," said the 2020 NHRA Rookie of the Year. "We had a lot of people from Phillips Connect and a lot of people from Velociti and that was really important to our program. In terms of our performance on the race track, we didn't accomplish our ultimate goal, which is to win the race, but you have to stack round wins and a semifinal finish is something we feel really good about. We have to keep the pressure on with two races left before the Countdown."
Although he was disappointed that he couldn't get his Phillips Connect dragster to the final round for a fifth time this year, he was happy for Brown's success.
"It's critical to have teams and people you can lean on," he said. "Racing in the heat and racing with this technical alliance is only going to help both of us get better. That was the purpose of the alliance to begin with. We are getting into the crucial part of the year with the Countdown coming up. To have these two teams working together will set us up in a really good position."
Epler, now the Executive Vice-President of California-based Phillips Connect, made drag racing history in 1993 when he drove his Funny Car to a finish line speed of 300.80 mph at Heartland Park that made him the first to break the 300 mph barrier in a vehicle other than a Top Fuel dragster. That milestone was commemorated in special graphics applied to Ashley's dragster specifically for the Menard's Nationals.
Epler, who retired from competition in 2001, was the Funny Car winner at the 1992 NHRA Winternationals at Pomona, Calif., the 1993 World Finals contested on the same track and the 2000 Las Vegas Nationals.  His last victory on the NHRA pro tour came on Sept. 4, 2000, when he beat Whit Bazemore to win the NHRA US Nationals at Indianapolis en route to a career best fifth place points finish.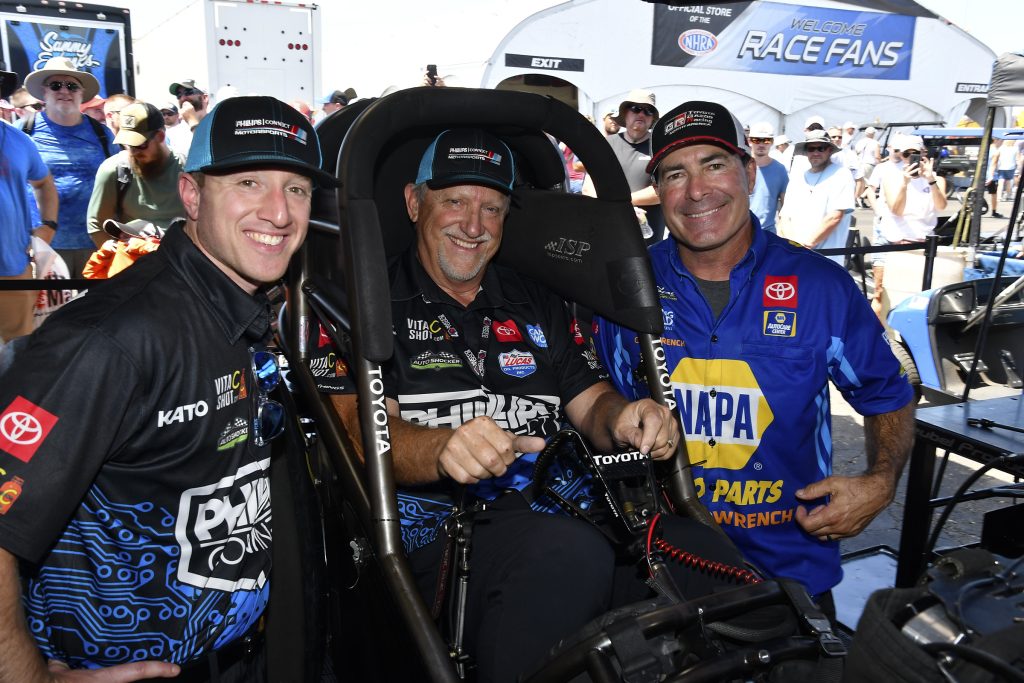 "We have never done anything like that before," Ashley said. "To be a part of that was really fascinating for me. I knew some of Jim Epler's history, but throughout the weekend I learned a little bit more and more. I am really appreciative to Ron Capps and his Toyota GR Supra team for letting Jim warm up his Funny Car on Saturday. I thought the front wing on our Phillips Connect Toyota dragster powered by Vita C Energy (bearing the graphics recognizing Epler's achievement) came out great."
The 2020 NHRA Rookie-of-the-Year, Ashley qualified his Mike Green-tuned dragster second behind Mike Salinas and dispatched Texan Buddy Hull in round one before powering past Leah Pruett in the quarterfinals.  In the semis, he grabbed a big lead at the start thanks to a .047 of second reaction time but, on a 140 degree racetrack, his car lost traction and slowed to 5.399 seconds while Brown advanced at 4.757..
While exposing marketing partners like Bendix, Velociti, Sensata Insights, Lucas Oil, and KATO Fastening Systems to an enthusiastic Midwest audience, Ashley was able to close the gap on point leader Brittany Force with another trip to the semis. With just two races remaining before the totals are adjusted for the start of the Countdown to the Championship, he trails Force by 133 points and Salinas by 102.
Qualifying Results
Q1: 3.765 sec, 320.45 mph; Qual 2
Q2: 4.558 sec, 172.89 mph; Qual 2
Q3: 3.813 sec, 323.35 mph, Qual 2
Bonus Points: 2 for second quick time in Q2, 3.765 at 320.43 mph.
Race Results
First Round
Justin Ashley, Phillips Connect Toyota dragster powered by Vita C Energy, 3.842, 320.81 mph, def. Buddy Hull, Vertex Roofing and General Contractors dragster, 12.432, 31.96 mph.
Second Round
Justin Ashley, Phillips Connect Toyota dragster powered by Vita C Energy, 3.843, 317.57 mph, def. Leah Pruett, Lake Havasu City, Ariz., Dodge Power Brokers dragster, 4.810, 225.26 mph.
Semifinals
Antron Brown, Pittsboro, Ind., Matco Tools dragster, 4.757, 174.77 mph, def. Justin Ashley, Phillips Connect Toyota dragster powered by Vita C Energy, 5.399, 208.39 mph.