DENVER, CO (July 17, 2022) — Justin Ashley and the Phillips Connect Toyota Top Fuel dragster powered by Vita C Energy raced to the semifinals today at his first NHRA Mile High Nationals. The second-generation professional driver qualified No. 2 and outran Cameron Ferre and Austin Prock before dropping a close race to eventual race winner Leah Pruett in the semifinals. Throughout qualifying the team battled to get a handle on a strong tune up heading into the final qualifying session from the bottom half of the field. Crew chiefs Mike Green and Tommy DeLago kept working and the final qualifying pass catapulted Ashley into the No. 2 spot and set him up for a strong race day.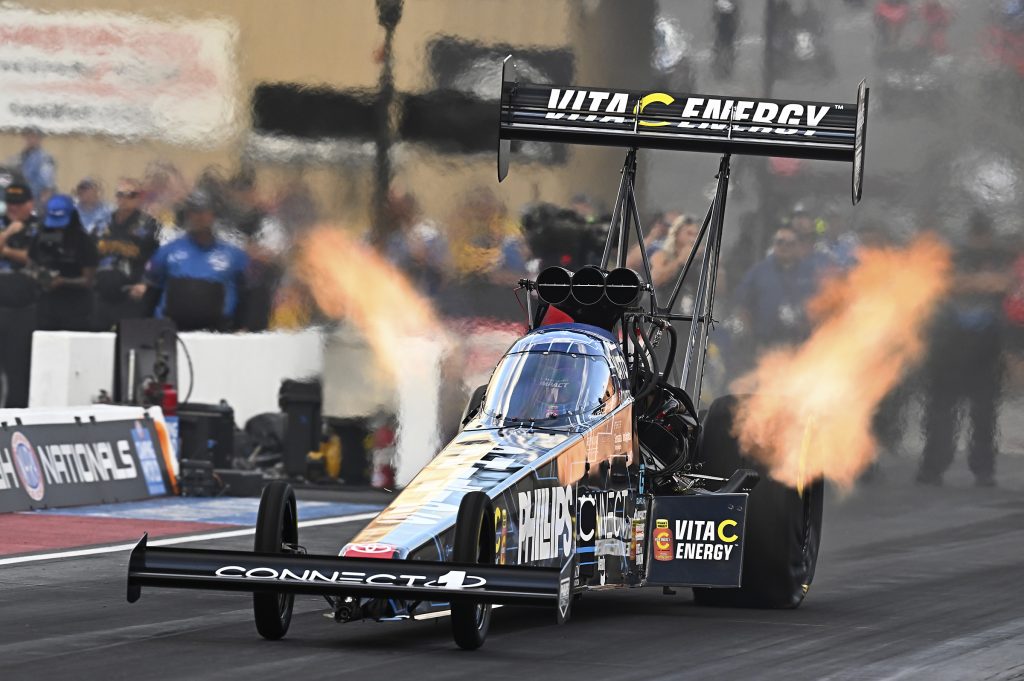 In first round against Ferre Ashley was first off the starting line with an impressive .051 reaction time and never trailed in the race. As Ferre's Top Fuel dragster was launching his parachute blossomed and he was robbed of any chance to chase down the Phillips Connect Toyota dragster.
"The first round is always the toughest and you can't take an opponent like Cameron lightly," said Ashley, who has two wins this season. "We struggled a little in qualifying but our last run in qualifying jumped us up to No. 2 and really gave us a strong shot today."
The 2020 Rookie of the Year faced the 2019 Rookie of the Year in the second round as Ashley pulled up beside Prock looking to keep his perfect win streak alive. In their three previous races Ashley was 3-0 against the young driver from Indiana. Prock was first off the line but he was up in smoke almost immediately. Ashley was mixing up some cylinders, but he was charging down track. Prock was unable to pedal his dragster and catch up to Ashley who advanced to his sixth semifinal this season. Ashley earned lane choice over Pruett in the next round.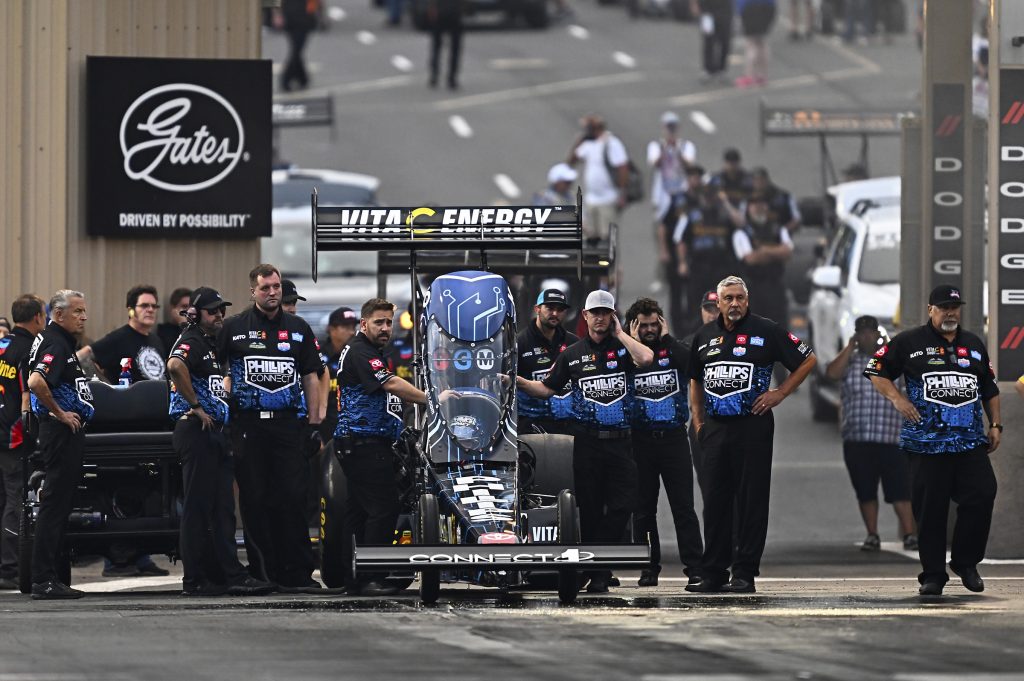 The Phillips Connect Top Fuel dragster was unfortunately plagued with cylinder issues again in the semifinals as Ashley took off and was immediately down on power. Pruett was on a smooth run that Ashley could not catch up to as they accelerated down the track at Bandimere Speedway. Ashley's elapsed time of 4.091 seconds was not enough to take down Pruett's 3.879 second pass, which was the quickest run of the session.
"Thar was a disappointing round for sure," said Ashley. "We had some issues in the second round against Austin and the team thought we had corrected the issue. We'll get it all squared away for the Sonoma Nationals. I would have loved to have gotten a couple more round wins today because this track is amazing and the Bandimere family put on a great race."
Heading into the Sonoma Nationals Ashley will be introducing his fans to the Phillips Connect Toyota Top Fuel dragster powered by Vita C Energy for the first time along with marketing partners Bendix, Velociti and Sensata Insights, Lucas Oil, and KATO Fastening Systems.
Qualifying Results
Q1: 4.016 sec, 294.95 mph; Qual. 4
Q2: 8.174 sec, 78.86 mph; Qual. 11
Q3: 3.871 sec, 320.05 mph; Qual. 8
Q4: 3.765 sec, 327.51 mph; Qual. 2
Bonus Points: +2 (2nd quickest of Q4)
Race Results
First Round
Justin Ashley, Phillips Connect Toyota dragster powered by Vita C Energy, 3.920, 319.22 mph def. Cameron Ferre, Huntington Beach, Calif., Lone Star dragster, 4.366, 264.86 mph
Second Round
Justin Ashley, Phillips Connect Toyota dragster powered by Vita C Energy, 4.144, 291.63 mph def. Austin Prock, Pittsboro, Ind. Montana Brands dragster, 4.721, 194.60 mph
Semifinals
Leah Pruett, Lake Havasu, Ariz., Power Brokers dragster, 3.879, 317.94 mphdef. Justin Ashley, Phillips Connect Toyota dragster powered by Vita C Energy, 4.091, 303.64 mph
Camping World Drag Racing Series Top Ten – Top Fuel
1. Mike Salinas 877
2. Brittany Force 867
3. Justin Ashley 785
4. Steve Torrence 744
5. Josh Hart 582
6. Leah Pruett 540
7. Austin Prock 538
8. Shawn Langdon 529
9. Clay Millican 519
10. Doug Kalitta 492
About Justin Ashley Racing
Justin Ashley Racing in partnership with Davis Motorsports fields the Phillips Connect Top Fuel dragster powered by Vita C Shot in the NHRA Camping World Drag Racing Series. In 2021 Ashley raced to three final rounds with a win at the Texas Fall Nationals in Dallas and ultimately finished No. 4 in the Top Fuel standings. During his Top Fuel rookie season in 2020 Justin won the NHRA Summernationals, finished in the Top Ten and was recognized as the 2020 NHRA Rookie of the Year. Prior to his professional debut Ashley has three wins in Top Alcohol Dragster on the Lucas Oil Series. He is the son of multi-time NHRA national event winner Mike Ashley. In 2017, he was named to the Drag Illustrated magazine's 30 under 30 list, highlighting some of racing's most promising young individuals on and off the racetrack. To learn more about Justin Ashley Racing, visit JustinAshley.com.