GAINESVILLE, FL (March 13, 2022) — For the second year in a row Justin Ashley gave the historic Gatornationals a strong run for its money. Today as the No. 6 qualifier the third year driver drove the Phillips Connect Toyota Top Fuel dragster powered by Vita C Shot  to the semifinals for the second year in a row outrunning defending winner Josh Hart and four-time Top Fuel champion Steve Torrence before losing to veteran Doug Foley in a wild semifinal. The 2020 Rookie of the Year has started this season with a win and semifinal finish in the first three races and has a strong hold on the No. 2 position in the Camping World point standings. The round wins now are critical to success later in the season in Ashley's opinion.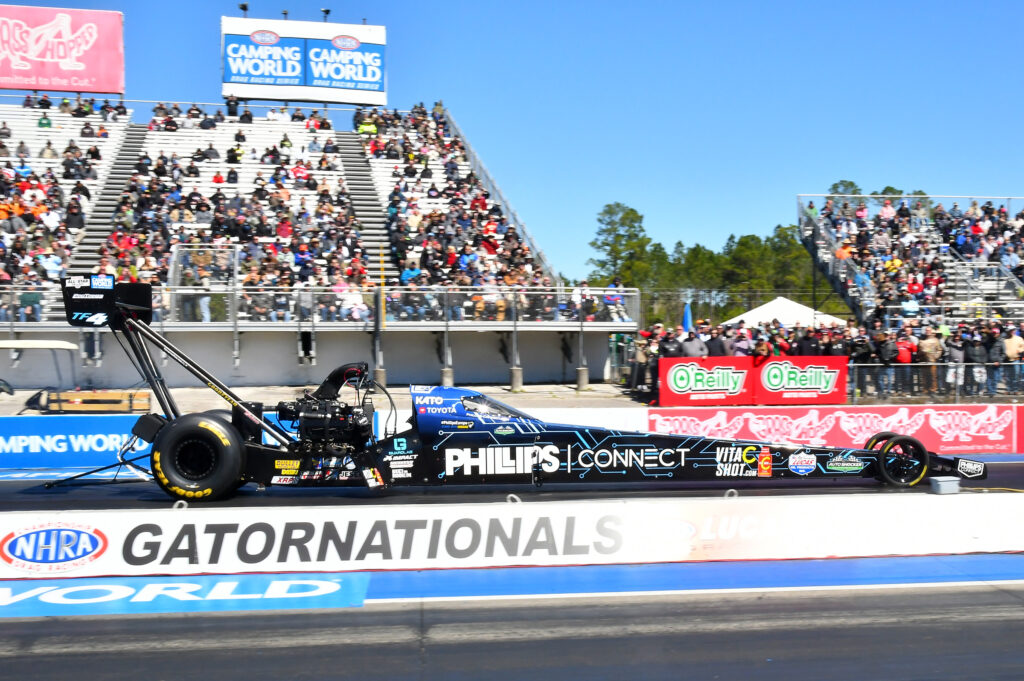 "We know it is going to be a tough field this season, so it is important to stack points early on," said Ashley. "As you get closer to the Countdown you feel like those races are more important, but they are just as valuable as the races early in the season. If you start to stack round wins early on it is great. Obviously, our objective is to win every race. We didn't accomplish that but we are going to learn from it."
The marque match-up of the first round between Ashley and Hart was a race between two of the quickest drivers off the starting line. It lived up to it billing when Hart jumped off the line with a .014 reaction time, but Ashley's Phillips Connect Toyota Top Fuel dragster has more power and he quickly got around Hart. As the finish line closed in Ashley was pulling away when Hart's R+L Carriers race car lost its motor. The win was critical to Ashley's momentum for the rest of the day and built on his qualifying effort. There was mutual respect for the driver who ousted him in last year's semifinal round at the Gatornationals.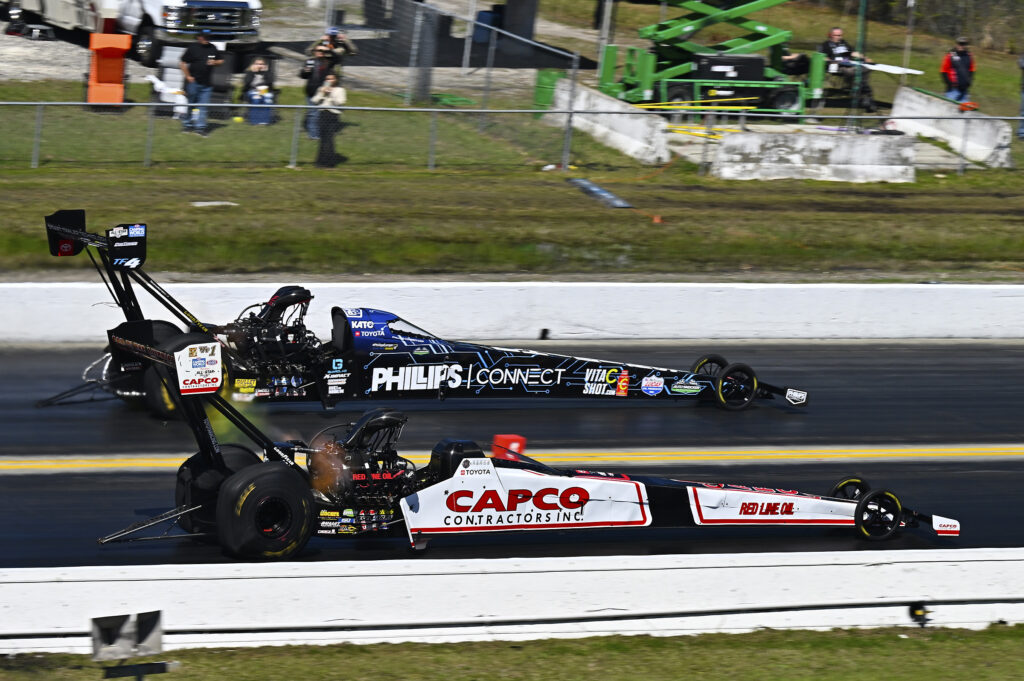 "Everyone is pulling out all the stops. You have to everything you can to be competitive and to give yourself an opportunity to win," said Ashley. "Josh is a great driver. I have raced against him for years. That is just a testament to the group of guys we have working on this Phillips Connect Vita C Shot Toyota dragster that we were able to go out there and run a 3.68 in the first round. That really set the tone for us for the rest of the day because there is no such thing anymore as being conservative. If you are conservative, you are going to be put on the trailer. My guys just did an awesome job led by crew chiefs Mike Green and Tommy DeLago. That was a tough first round match-up. You can't take anything for granted and we were happy to get that win."
In the quarterfinals Ashley met reigning Top Fuel world champion Torrence on the ladder. The battles between these two drivers have been some of the fiercest in recent years with Ashley winning four the last six meetings after an 0-6 start against the four-time champion.
"When you go up against Steve you know what he is all about, that guy is a champion for a reason and they have a championship team," said Ashley. "When you really look at that round it is a good example of why we need to just focus on ourselves because we can't control what happens in the other lane. We need to just do the very best that we can do. We did just that and we were able to come out with a big round win. We outran him and it was very close on the starting line. There is something about racing a champion and Steve in particular, brings out the best in you. It brought out the best in me and brought out the best in my team, too."
In the semifinals Ashley overpowered the left lane racing veteran Doug Foley. Ashley jumped off the line first and smoked the tires. He tried to pedal his 11,000-horsepower dragster but it washed out to the right and as he saw Foley on a clean run he clicked off his race car and turned his attention Las Vegas. With the backing of primary sponsor Phillips Connect and Vita C Shot along with returning sponsors Auto Shocker, KATO Fastening Systems and GuardLab Ashley is looking forward to another shot at four-wide racing.
On Saturday Ashley also picked up a win of sorts during his only qualifying run. It was the opening round of the Pep Boys All-Star Callout event. Ashley got the win light over Doug Kalitta and will complete the event at the U.S. Nationals Labor Day weekend. Getting that victory helped focus the three-time Top Fuel national event winner on the task at hand today.
"Usually, you go into race day on Sunday and you have early race day emotions," said Ashley. "This was different because we got race day emotions as soon as we got here. I think that was good because it set us up for race day itself. We made that one pass which was actually a race within the race and it gave us a lot of confidence. That was a very difficult round. We knew we were only going to have one session for qualifying and we were trying to win the first round of the Callout. (Crew chief) Mike Green did a great job taking everything into consideration."
The addition of crew chief Green last year and DeLago over the off-season has given Ashley and the Davis Motorsports team a brain-trust of tuners that made a difficult weekend manageable and successful.
"Days like yesterday and today show how much having a guy like Mike pays off," said Ashley, "It works for us on the track and off the track too. He has done so many great things with this Davis Motorsports team. From a driver's perspective it just gives you so much confidence knowing when everything is on the line you have a guy like Mike and a guy like Tommy in your corner making the calls."
Qualifying Results
Q1: 3.722 sec, 330.96 mph; Qual. 6
Bonus Points: +1 (3rd quickest in Q3)
Race Results
E1: Justin Ashley, Plainview, NY, Phillips Connect Vita C Shot dragster, 3.687, 331.45 mph def. Josh Hart, Ocala, FL, R+L Carriers dragster, 3.759, 305.42 mph
E2: Justin Ashley, Plainview, NY, Phillips Connect Vita C Shot dragster, 3.683, 331.61 mph def. Steve Torrence, Kilgore, Texas, Capco dragster, 3.703, 327.19 mph
E3: Doug Foley, Mooresville, NC, ProTech Construction dragster, 3.774, 313.15 mph def. Justin Ashley, Plainview, NY, Phillips Connect Vita C Shot dragster, 9.643, 78.92 mph
Camping World Drag Racing Series Top Ten – Top Fuel
1. Mike Salinas 256
2. Justin Ashley 233
3. Steve Torrence 209
4. Brittany Force 178
5. Clay Millican 173
6. Tripp Tatum 160
7. Josh Hart 157
8. Doug Foley 155
9. Austin Prock 146
10. Doug Kalitta 130