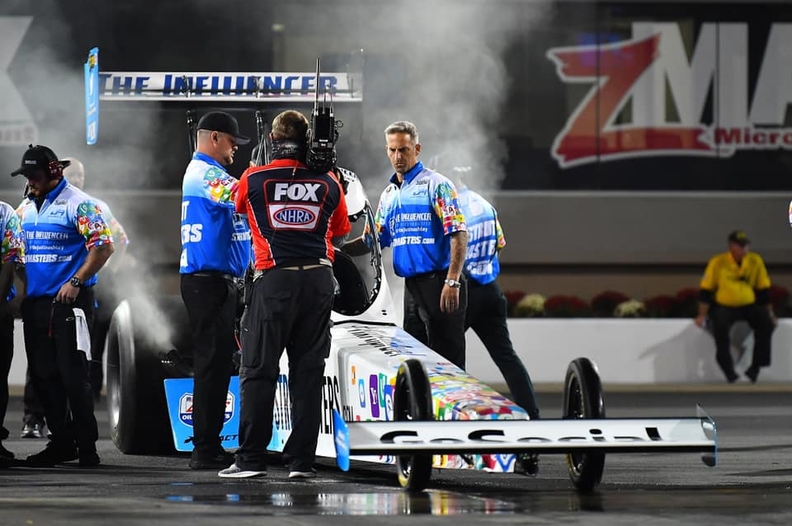 It only took Justin Ashley 24 years to beat his father's best mark in a dragster. And he did it one run.
The second-generation drag racer ran a 3.83 elapsed time behind the wheel of the Davis Motorsports, Strutmasters.com dragster to secure a berth in the final qualified field during the first day of the NTK NHRA Carolina Nationals.
"I am just happy we were able to make it down the track and get in the field," Ashley said. "That was a good and solid pass to go from A-to-B."
Was his first run in competition what he expected?
"It was everything I expected," Ashley admitted. "We wanted to go down the track on the first pass and run a mid-to-low-3.80. I envisioned us taking one step at a time, but making a strong statement the first time."
Headed into zMax Dragway, Ashley had taken advantage of test sessions in Bakersfield, Norwalk, and Indianapolis to get the Don Schumacher Racing-built dragster dialed in.
While Ashley might have been calm and collected after the initial hit, the night before he was a rookie.
"For a first time in Top Fuel racer there's the normal butterflies," Ashley said. "I wouldn't call it anything crazy, over-the-top nerves or anxiety or anything like that. I just try and do my best to kind of keep things simple and not overthink it."
Just because he didn't overthink it, didn't mean it wasn't on his mind.
"I think I got no sleep Thursday night," Ashley admitted. "There was quite a bit of tossing and turning. I don't think I need any sleep this weekend, and I think somehow I'll be I'll find a way to be energized."
Ashley qualified No. 12 and will face Mike Salinas in Sunday's first round.